Content
European Inventor Award 2022 - the finalists have been announced

Frank Herre (left), Hans-Georg Fritz and team
Zero Waste - automated system for the loss-free painting of car bodies: Frank Herre, Hans-Georg Fritz and team nominated for European Inventor Award 2022
The European Patent Office announced the finalists for the European Inventor Award on 17 May 2022. In the "Industry" category, German engineers Frank Herre, Hans-Georg Fritz and their team are among the nominees. They have developed an automated car painting system. It applies the paint in such a way that no drop is lost. This results in less waste and makes it much easier to realise individual customer wishes.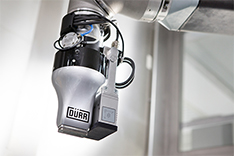 Revolutionary waste-free car body painting
Individual paint jobs, such as stripes on a bonnet or a contrasting colour on the car roof, are sprayed onto the body after the surrounding car parts have been masked off with tape or foil. However, about 20 percent of the paint is wasted due to overspray or paint mist. Many painting processes also require energy-intensive heating to dry the paint between the individual coats. The invention by the team at German machinery and equipment manufacturer Dürr System AG applies the paint so precisely that masking and any waste can be avoided and energy consumption can be reduced by up to 30 per cent.
The technology could spur growth in the customised car market, initially for high-end models or to differentiate electric cars, but also with potential for mass production. Herre, Fritz and their team are now working on adapting their system to paint larger parts of a car or the entire body. "We are only at the beginning of applying this revolutionary technology to standard painting," says Herre, adding that one day it could also be used to apply logos to trains, buses or exterior surfaces. "We know that it will be possible to use our system for exterior painting and that will be our goal and task in the future. To paint entire vehicles without overspray. That will improve efficiency, reduce environmental impact and therefore reduce costs for manufacturers."
Musician hits right note with quick fasteners: Joachim Fiedler nominated in the "SME" category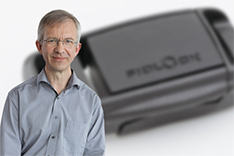 Joachim Fiedler in front of his magnetic fastener
Also nominated for the European Inventor Award is German inventor and cellist Joachim Fiedler, who has developed innovative closures. These combine magnets with a mechanical locking mechanism and can be opened easily with just one hand.
As is often the case, this invention started with a seemingly simple problem: Joachim Fiedler wanted to get his cello bow out of its case. Since his instrument was already in the other hand, he only had one hand free for this. This gave Fiedler the idea of inventing the one-hand closure. Today, his magnetic-mechanical closures are often used to solve everyday problems. The fasteners can be found in a wide range of products, from bags and shoes to motorbike helmet buckles that can even withstand high static loads. Fiedler's fasteners are particularly in demand in the bicycle industry, where they are used for easy-open helmet buckles and to attach water bottles and mobile phones to bicycles.
European Inventor Award - Award ceremony on 21 June 2022
The choice is yours!
In addition to the five main categories, there is an audience award. This will be awarded via a public vote. You can vote for your favourite on the website of the European Patent Office.

The European Inventor Award is presented once a year by the European Patent Office. Three candidates are nominated in each of the five categories - industry, research, non-EPO countries, SMEs and lifetime achievement - and one person or team is then awarded the prize.
This year, the EPO will also award the Young Inventors prize for the first time. The new prize for young people under 30 includes a cash award for the three finalists to further encourage them to find creative solutions to pressing sustainable development challenges.
The award ceremony will take place this year on 21 June at a digital ceremony.
Read more about the European Inventor Award on the

website of the European Patent Office.

Pictures: European Patent Office
Last updated: 5 August 2022