Content
DPMA and Chinese partner authority CNIPA expand cooperation
Meeting of the heads of offices in Munich - Joint symposia planned

The heads of the China National Intellectual Property Administration (CNIPA) and the German Patent and Trade Mark Office (DPMA) confirmed their plans for further cooperation on Friday (21 September 2018). At the meeting of a high-ranking Chinese delegation with executives of the DPMA in Munich, Commissioner Dr Changyu Shen, Head of CNIPA, and DPMA President Cornelia Rudloff-Schäffer emphasised the long-standing good relations between their offices.
Dr. Shen explained the restructuring and comprehensive bundling of all intellectual property protection tasks in CNIPA as a consequence of the highlighted importance of intellectual property in China's innovation and economic strategy. CNIPA is also responsible for establishing efficient structures and centres in China, developing legislative initiatives for all intellectual property rights and international cooperation with partner authorities in the field of intellectual property.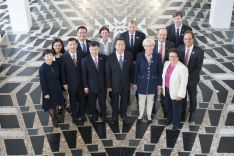 The CNIPA delegation and the DPMA top management team in Munich
Since March 2018, the Chinese Office - like the DPMA – is also responsible for the registration of trade marks and the protection of indications of geographical origin. As a result of the reorganisation, CNIPA, the former State Intellectual Property Office of China (SIPO), has become part of the State Administration for Market Surveillance and Administration (SAMR) and has been called China National Intellectual Property Administration (CNIPA) since 28 August. This strategically important authority is the world's largest intellectual property office and now has 16,000 employees, including 11,000 working in patent examination alone.
DPMA President Cornelia Rudloff-Schäffer informed the Chinese side about the latest developments in the patent and utility model field, the work on the implementation of the trademark law reform and the current recruitment campaign in the patent branch of the DPMA. Bilateral cooperation between the DPMA and CNIPA is to be further expanded. The topics envisaged are the utility model procedure and the dialogue on industry 4.0, artificial intelligence and blockchain. Joint symposia in Germany and China are planned for next year.

Pictures: DPMA
Last updated: 21 June 2022