Content
Parliamentary State Secretary visits DPMA
Rita Hagl-Kehl guest at Munich headquarters
On 3 May 2018, Rita Hagl-Kehl, Parliamentary State Secretary at the Federal Ministry of Justice and Consumer Protection, visited the German Patent and Trade Mark Office in Munich for the first time.
President Cornelia Rudloff-Schäffer warmly welcomed Hagl-Kehl, who has been in office since March 2018, and presented the structure, position and strategy of the German Patent and Trade Mark Office in the national and international network of institutions for the protection of intellectual property.

Insight in daily challenges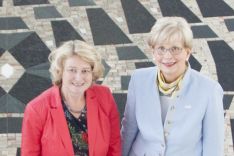 Parliamentary State Secretary Rita Hagl-Kehl and DPMA president Cornelia Rudloff-Schäffer
In the subsequent presentation, the four heads of department of the DPMA explained the daily challenges of the IP areas in view of the consistently high number of applications and portfolios. In addition, the current staffing levels, the impressive degree of maturity of digitisation in the areas of patents, utility models and trademarks as well as the large number of demanding IT projects and various aspects of the planned IT consolidation of the Federal Government were presented.
Ms. State Secretary paid great attention to the DPMA's job requirements, especially in the field of patent examination, in view of the sharp increase in the workload. The management of the DPMA also emphasised the growing importance of industrial property rights for innovative industries and small and medium-sized enterprises in Germany. The DPMA top management also referred to the repeated performance expectations of users, who paid fees of almost 400 million euros to the DPMA in 2017 alone.

Patent examiner´s work "live"
President Rudloff-Schäffer and her management team urged that, within the framework of the parliamentary budget negotiations, the additional posts required to ensure patent and trademark protection for the innovative companies and creative start-ups in a reasonable time should be approved.
At the end of the visit, two experienced patent examiners presented their daily work in the fully electronic working environment and granted a patent "live". Ms. State Secretary was impressed by the electronic file processing, the variety of tasks and the important position of the DPMA in the context of innovation strategy, innovation promotion and innovation protection.

Picture: DPMA
Last updated: 26 May 2023