Content
German-Japanese Symposium
United in innovation protection

DPMA President emphasises close cooperation
The President of the German Patent and Trade Mark Office (DPMA), Cornelia Rudloff-Schäffer, has emphasised the close ties between Japan and Germany in the field of intellectual property. "Both Japan and Germany are at the forefront of technical innovations, especially in the field of automation, digitisation and artificial intelligence", said the DPMA President at the opening of the international symposium "Patent infringement proceedings in Japan and Germany" this Thursday (4 October) in Munich. The protection of intellectual property is essential to make this last. Bilateral cooperation with the Japanese Patent Office (JPO) thus is particularly important.
400 international guests attended the top-class symposium at the DPMAforum, which is organised by the DPMA, JPO and various lawyers' associations, among others. Speakers included the current as well as the former President of the Japanese Supreme Court for Intellectual Property, Makiko Takabe and Misao Shimizu, and the Presiding Judge at the Bundesgerichtshof (Federal Supreme Court), Professor Peter Meier-Beck. The main focus was on the topics of "inventive step", "claim formulation" and "equivalence doctrine". This year's event was the sixth in this series and the third in Munich. The symposium "Patent Infringement Proceedings in Japan and Germany" took place for the first time in Tokyo in 2007.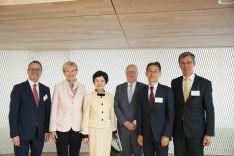 From left: Prof. Peter Meier-Beck, Cornelia Rudloff-Schäffer, Makiko Takabe, Jan Grotheer, Misao Shimizu and Klaus Grabinski
Japan and Germany are closely linked when it comes to intellectual property. With 7274 patent applications per year, Japanese companies were the largest foreign applicant group at the DPMA last year. The German Office and the JPO have been working closely together for a long time. Over the past 20 years, around 60 examiners have participated in the joint exchange programme. In October 2017, the DPMA President and the Head of the JPO, Naoko Munakata, signed an extended data exchange agreement to jointly develop a new system for the translation of patent documents.
At the event in Munich, Cornelia Rudloff-Schäffer also drew attention to the responsibility of the patent authorities in connection with patent disputes. "The high quality of the patent examination is of great importance for possible subsequent infringement proceedings", said the DPMA President. "The German Patent and Trade Mark Office is aware of this responsibility".

Picture: DPMA
Last updated: 26 May 2023