Inhalt
Pioneer of protein research

Nominated in the category "Research": Professor Dr Matthias Mann
Hope for early diagnosis of serious diseases: DPMA President delighted about German proteomics researcher Matthias Mann being nominated for the European Inventor Award
His groundbreaking inventions help predict and better diagnose serious diseases: The President of the German Patent and Trade Mark Office, Cornelia Rudloff-Schäffer, was very pleased about physicist and biochemist Matthias Mann being nominated for the European Inventor Award. "As a pioneer in proteomics, Professor Mann has contributed to entering a new and enormously important chapter in research," President Rudloff-Schäffer said. "I am particularly impressed by the fact that, despite initial scepticism in professional circles, he pushed his developments forward together with his teams: This is what characterises great inventors!" The DPMA President paid particular tribute to the social benefits of the work: "Professor Mann's inventions correspond to a great wish that we all have: to diagnose serious diseases early and reliably and to treat them as individually as possible." Professor Mann has been nominated for the European Inventor Award as one of three finalists in the category "Research".
Professor Dr Matthias Mann is a Director at the Max Planck Institute of Biochemistry in Martinsried near Munich. For more than 30 years, he has been carrying out research in proteomics, that is in the identification and analysis of proteins present in living organisms. Proteins are the building blocks of life serving both as chemical messengers and control elements in organisms. If the existence and concentration of a certain protein in a cell is proven, conclusions can be drawn about health hazards and diseases, for example.
In 1988, Matthias Mann received his PhD in Chemical Engineering from Yale University under Professor John Fenn. He was granted a patent in 1994 for a technique which was vital for proteomics as an individual research discipline: nano-electrospray. It serves to analyse large quantities of proteins. John Fenn was awarded the Nobel Prize in Chemistry in 2002 for this technique, among other things. Ten years later, Matthias Mann introduced the SILAC (stable isotope labelling by amino acids in cell culture) technique providing for a much faster and more precise analysis of the human proteome, that is of all proteins present in the human organism. Professor Mann and his team have not only developed the method, but also special preparation techniques for biological samples, labelling techniques for cells and software tools for measurement and evaluation.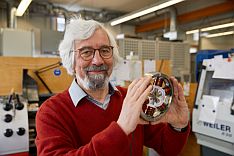 Prof. Dr. Maximilian Haider
Experimental physicist Professor Dr Maximilian Haider, who has also been researching and teaching in Germany for decades, has been nominated in the category "Lifetime achievement". Owing to the inventions of Professor Haider, the image resolution of electron microscopes is five times higher than before, making atoms of semiconductor crystals visible to humans. Using the optimised microscopes, microchip manufacturers, for example, can miniaturise components for mobile devices. Maximilian Haider is Professor in Electron Optics at Karlsruhe Institute of Technology (KIT) and and co-founder of Corrected Electron Optical Systems GmbH (CEOS) in Heidelberg.
The European Inventor Award is conferred in five categories once a year by the European Patent Office in Munich. This year's prize-giving ceremony will take place on 20 June 2019 as part of a gala event in Vienna. Further information and videos on Matthias Mann, Maximilian Haider and all nominees can be found on the website of the European Patent Office.
Popular Prize 2019: Your voice counts
On 20 June 2019, the European Inventor Award will be conferred by the European Patent Office (EPO). Now the public opinion counts: Which invention is most impressive? An international jury selects the winners in the five categories "Industry", "Research", "Non-EPO countries", "SMEs" and "Lifetime achievement" – you decide on the Popular Prize. Everyone is called upon to support their favourite among the 15 finalists with their vote. For this purpose, you can participate in the online voting until 16 June 2019.
Pictures: EPO
Last updated: 13 February 2020