Content
German-chinese cooperation
President of the German Patent and Trade Mark Office welcomes Deputy Commissioner of the Chinese partner authority – Memorandum of Understanding to be renewed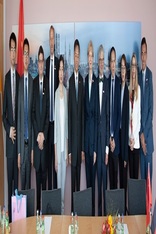 The President of the German Patent and Trade Mark Office (DPMA), Cornelia Rudloff-Schäffer, met Deputy Commissioner Gan Shaoning of the Chinese partner authority, the National Intellectual Property Administration of the People's Republic of China (CNIPA), in Munich. At the meeting at the DPMA, the two Heads of Office also discussed a possible expansion of cooperation. Furthermore, they recognised the 40 years of friendly cooperation between the two offices. "China is one of our most important trading partners. In view of 10,000 patent applications from Germany filed with the CNIPA in the first eight months of this year alone, the exchange is of great benefit to both sides," the DPMA President emphasised.
The current Memorandum of Understanding will expire in October and a follow-up memorandum is presently being discussed at working level. DPMA Vice-President Ulrich Deffaa is planning to travel to China with a delegation of patent experts and representatives of the business community on occasion of the 40th anniversary of cooperation in the spring of 2020. It is planned to sign the new Memorandum of Understanding there. An expansion of cooperation to the areas of trade marks, designs and utility models has been envisaged at today's meeting. The background situation is that, since 2018, the CNIPA has also been responsible for the protection of trade marks, designs and geographical indications of origin. In addition to the regular patent examiner exchange programme, the new Memorandum of Understanding will also include the exchange of trade mark experts. Further topics of discussion were the challenges associated with the training for new patent examiners and quality issues in the patent examination procedure.
China had started to establish its own system of industrial property protection in 1980. For this reason, a Chinese delegation had visited Germany even a year before. In the following years, more than 500 Chinese experts attended training courses at the then German Patent Office (DPA), including today's Deputy Commissioner Gan Shaoning. The CNIPA is now the largest patent office in the world and is expected to grow to a patent examining staff of 16,000 in the coming years.

Picture: DPMA
Last updated: 17 September 2019