Content
High-level discussions at the WIPO General Assembly
Vice President of the German Patent and Trade Mark Office meets senior officials from China, Japan, Singapore and Peru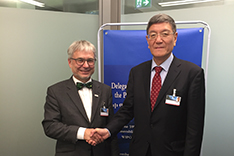 Vice Presidents of DPMA and CNIPA expand expert exchange in the field of trade marks: Ulrich Deffaa (left) and He Hua (right)
Geneva. The Vice President of the German Patent and Trade Mark Office (DPMA), Ulrich Deffaa, met with the heads of several national patent offices at the General Assembly of the World Intellectual Property Organization (WIPO) in Geneva. Among other things, Deffaa agreed with the Vice President of the China National Intellectual Property Administration (CNIPA), He Hua, on the visit of a German delegation in China at the end of April 2020. During the vistit a new German-Chinese partnership agreement is to be signed which, according to current plans, extends the cooperation to the field of trademarks - for example through regular exchanges of experts. The Chinese Office is responsible for trademarks since last year.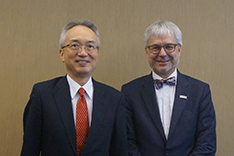 Cooperation strengthened in PPH procedures: DPMA Vice Deffaa and JPO Vice Commissioner Kunihiko Shimano (right)
Furthermore the DPMA Vice-President spoke with Kunihiko Shimano, Deputy Commissioner of the Japan Patent Office (JPO), about cooperation on accelerated applications under the Patent Prosecution Highway (PPH). Both offices stressed the importance of the PPH procedure for cooperation between their countries. In addition, the heads of offices exchanged views on the use of artificial intelligence in patent proceedings in Japan and Germany.
Further meetings were held with the presidents of the patent offices of Singapore and Peru and with representatives of WIPO. At the meeting of the so-called Group B+, the harmonisation of patent law was discussed.
Pictures: DPMA
Last updated: 26 May 2023