Inhalt
Donald Duck turns 85

At the age of 85 still choleric, mostly unlucky, chronically broke and single father of triplets: Donald Duck still doesn't have it easy. Probably the most famous comic figure on the planet (next to Mickey Mouse from the same house) celebrates his birthday.
Anniversary of the comic character - Donald Duck: 85 and still going strong
On June 9, 1934 Donald Fountleroy Duck (so his complete name) had his first appearance as a supporting actor in the cartoon "The Wise Little Hen". In the movie, the drake lives on a boat, that is why he wears a sailor´s jacket – as he still does today (and still no pants!).
Because Micky Mouse, the older, bigger star, had to become more and more serious, brave and colorless with increasing fame, Disney needed an anti-hero, a counterweight to the tame mouse. Donald was – aside of all his original cuteness - a duck with deeply human weaknesses: he is unpredictable, clumsy, quick-tempered and lazy.
The duck that was human
And it was precisely this humanity that helped the figure achieve rapid, enormous popularity that continues to this day. Walt Disney, a clever businessman, skilfully used intellectual property rights to market his creations exclusively and effectively. Not only Donald (trade marks (Unions-Wortmarken 002828341, 005240271, 003335668)), but practically all popular cartoon characters of the Disney stories are protected by IP rights. To this day, Disney, now a global corporation, operates very successfully with the protection of its intellectual property and makes millions with merchandising.
In contrast, Donald is chronically broke. The figure gained its actual profile in the comic strips of the legendary painter and author Carl Barks in the 1940s and 1950s. Barks also created many other characters that still populate Donald's environment today: his uncle Scrooge, the richest duck in the world, his permanent girl-friend Daisy, the ingenious inventor Gyro Gearloose or the criminal Beagle Boys (Panzerknacker in German) - to name just a few.

Cheer! Applaude! Wonder!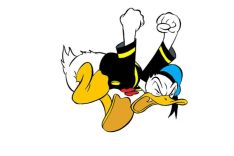 That´s how we know him!
The brilliant translator Dr. Erika Fuchs contributed to the cult status of the Donald comics in Germany. She raised the dialogues, which were mostly much simpler in the American original, to an almost literary level, enriched with classic quotations, cult puns, virtuoso use of alliterations as a stylistic device.
Above all, she enriched the German language with an inventive grammatical clause, later called "Erikativ" in her honour: verbs are shortened to the root of the word (inflectives) and get a onomatopoeic, suggestive and illustrative effect: Swallow! Moan! Strangle! Gargle! This works not only with noises, but even with inner processes: Brooding! Study! Freeze! Scare!

Ducking patents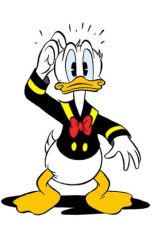 The world-famous drake also appears frequently in patent literature: If you search his name in the DPMA database DEPATISnet, you will find a large number of very different references to the figure in patent and utility model documents (e.g.

DE1996437U.pdf,

EP000002339497A2.pdf).
How Donald overturned a patent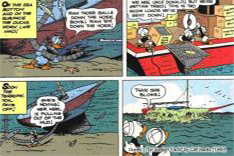 Salvaging a ship with ping-pong balls: The ingenious idea of the Disney painter Carl Barks in a 1949 comic strip
In 1964, a Danish inventor applied for a patent in his home country for a method of lifting sunken ships, in which foam balls were pumped into the wrecks to give them buoyancy. The patent was also confirmed by the DPMA (

DE1247893B) and in Great Britain (

GB1070600A).
But the patent office of the Netherlands refused to grant it: In a story by Carl Barks published as early as 1949, Donald Duck had used a very similar procedure to lift a sunken yacht with the help of table tennis balls. In view of the large circulation of the comics, the Dutch colleagues no longer saw the novelty of the invention.
Donald Duck should therefore be declared a must-read for patent examiners... Giggle!

Pictures: DPMAregister, Walt Disney Corp.
Last updated: 11 March 2021