Content
DPMA awarded for its family-friendliness

DPMA has been awarded the "workandfamily audit certificate"
President: Work-life balance as a strategic goal
The German Patent and Trade Mark Office (DPMA) has been recognised as a particularly family-friendly employer. After a multi-stage procedure, the federal authority was awarded the workandfamily (berufundfamilie) audit certificate week. The official certificate ceremony took place on 22 June 2021.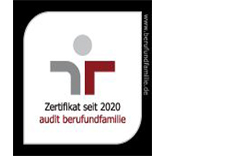 The DPMA has proven that it pays particular attention to the work-life balance. "This certificate emphasises our strategic goal to promote the work-life balance," said DPMA President Cornelia Rudloff-Schäffer, adding that this would also benefit the office as an employer. "Good and flexible working conditions are one of the most important advantages in recruiting qualified staff," the President emphasised.
The audit was carried out in several steps: In addition to a review of the status quo, workshops were held for the executive and non-executive staff of the office to address the reconcilability of work, family and private life in more detail. To take a broad range of experiences into consideration, staff with different schemes as to when and where they work as well as staff with and without duties to care for children and/or elderly or disabled persons were involved in these workshops. Based on the workshop results, new targets were agreed, which the DPMA will now implement.
The certificate award ceremony of the "audit berufundfamilie" takes place once a year for all institutions certified during this period. In the course of an online event with a festive accompanying programme on 22 June 2021, the DPMA has now officially received its certificate.
The certificate is awarded by

berufundfamilie Service GmbH. The company sees itself as a service provider and think tank concerning the reconcilability of work, family and private life. It advises companies, institutions and universities on the implementation of a sustainable personnel policy that is family-friendly and takes into account the phases of life.

Picture 1: DPMA, Picture 2: berufundfamilie Service GmbH
Last updated: 22 June 2021