Content
DPMA
register

Official Register
Information brochure

DPMAregister: Official publication and register database
On a statutory basis, the DPMA keeps the online register, DPMAregister, for patents, utility models, trade marks and designs, which can be accessed free of charge. Its connection to DEPATISnet allows you to view individual entries as well as published documents such as patent and utility model specifications and published patent applications.
You can find the latest information in the DPMAregister on the legal and procedural status of all IP applications, and registered and granted IP rights which provide protection in Germany now or at any earlier stage. The service is also suitable for the regular and systematic checking of newly published IP rights as part of a monitoring search. DPMAkurier an online service which you can use for monitoring IP rights. Then you will receive the results through automated e-mails. DPMAregister also offers the option of electronic file inspection for patent and utility model procedures.
Available data
The bibliographic data and legal/procedural status data on the following publications can be searched in the DPMAregister:

Patents and utility models

Published and granted patents and registered utility models from 1 January 1981
Published and granted patents from former East Germany (GDR) from 1 January 1981
Supplementary protection certificates for medicinal and plant protection products
European patents
Topographies for micro-electronic semi-conductor products pending or in force by the deadline of 31 December 2010 or later

Trade marks

Filed German trade marks since 1 January 1998
Registered German trade marks since October 1894, insofar as they were not deleted prior to 1 January 1995
Rejected and withdrawn German trade marks (excerpt)
European Union trade marks from the European Union Intellectual Property Office (EUIPO)
International registrations of marks from the World Intellectual Property Organisation (WIPO), if Germany or the European Union have been designated

Designs

Register data for all registered and cancelled designs with a filing date from 1 July 1988
Procedural data for all registered and cancelled designs from 1 January 1998
Complete images of designs registered from 1 June 2004

Indications of geographical origin in accordance with (EU) regulation no. 1151/2012

Official publication days
The DPMAregister is updated daily. The statutory publications of published patent applications or patent specifications, registered utility models, trade marks or designs, and the publication of the official patent gazette (Patentblatt), trade mark journal (Markenblatt) and design gazette (Designblatt) take place on fixed official publication days: usually on Thursdays in the case of patents and utility models, and Fridays for trade marks and designs.
If the fixed publication days coincide with a Bavarian holiday, it shall be brought forward by one day.
In the event of urgent monitoring searches, it is recommended that you take heed of the rescheduled publication days.
In 2023, the following dates have been rescheduled:

Patents and utility models

18 May 2023 - rescheduled to 17 May 2023
8 Juni 2023 - rescheduled to 7 Juni 2023
Trade marks and designs

6 January 2023 - rescheduled to 5 January 2023
7 April 2023 - rescheduled to 6 April 2023
Search the
DPMA
register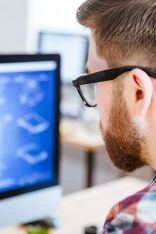 You can use the DPMAregister at your leisure, online and free of charge. There are several modes available for search, from the beginner's search to the expert search. Your search produces configurable result lists that can be organised and downloaded. The latest register information with the respective legal (and procedural) status is displayed for each hit. The register entry can be printed or downloaded. Thus, you receive a complete registry extract. The detailed help sections on the DPMAregister pages aid you in the process.
The following support is available for your search:

the central Customer Care and Services of the DPMA (phone: +49 89 2195-1000)
the database hotline for search support (phone: +49 89 2195-3435) provides answers to your queries and gives tips on search methods
The online-assisted search is an interactive service that helps you with searches on patents, utility models, trademarks and designs.
over 20 regional patent information centres (PIZ) throughout Germany offer tailored search support and detailed information on industrial property protection. The patent information centres also carry out search on your behalf for a fee
patent attorneys and lawyers, industrial information brokers and patent rapporteurs, too, offer search services and can be found via most common online search engines

Picture: iStock.com/creisinger, Picture 2: iStock.com/DeanDrobot
Last updated: 2 January 2023