Content
Our Office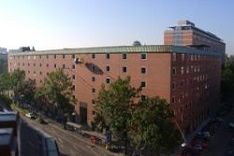 The headquarters of the DPMA are located on Zweibrückenstraße in Munich.
Inventiveness and creativity need effective protection. The German Patent and Trade Mark Office (DPMA) is the centre of expertise for all intellectual property rights - for patents, utility models, trade marks and registered designs. As the largest national patent office in Europe and the fifth largest national patent office in the world, it is committed to Germany's future as a country of inventors in a globalised economy. Its staff provide services for inventors and companies and develop national, European and international IP systems further.
Here, you receive information about senior management and organisation of our office, its duties and cooperation partners. Get an insight into our local offices and search tools. Learn more about the history of the DPMA and our events and publications. Read about the role of the DPMA within the framework of international IP rights for patents, utility models, trade marks and designs. Furthermore, you will receive information on the legal framework of our work and on the career options at our office.
Protecting innovation – The DPMA
A short film about the importance of the DPMA for intellectual property protection (film with subtitles in German only).