Inhalt
Splitting off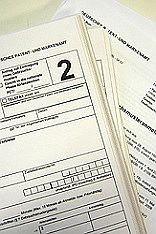 Utility model application form
A split-off utility model can be used to supplement a patent application. It provides flanking protection during the patent pendency period. For example, it is not yes possible to seek injunctive relief or claim damages arising from the patent application during this period. Upon registration of the split-off utility model, your invention enjoys full protection irrespective of the outcome of the patent grant procedure.
A split-off utility model can also be useful if you have published your invention before filing a patent application. This is because, in that case, patent protection is no longer available since your invention is no longer deemed to be new. However, you can apply for a utility model within six months from the publication. In this case, the novelty grace period applies – your publication is not considered to be part of the prejudicial state of the art within this period.
The split-off application is an independent utility model application. Box 8 of the application form allows you to indicate that the application is split off from a previous patent application. Furthermore, you must indicate the file number and the date of filing of the patent application. The effect of a declaration to split off a utility model is that your utility model application is granted the filing date of the earlier patent application.
Splitting off is allowable within ten years from the date of filing the original patent application but, at the latest, within two months from the end of the month in which processing of the patent application or any opposition proceedings are concluded.
Picture: DPMA
Last updated: 16/08/19