Content
Where can I find information, advice, support and funding opportunities?

Information services offered at the DPMA
We provide information to you on these SME pages and you can also find further support on the following DPMA webpages:
---
SMEs Fund 2023

The Ideas Powered for business SME Fund is a grant scheme designed to help EU small and medium-sized enterprises (SMEs) intellectual property (IP) rights. The SME Fund is a European Commission initiative implemented by the European Union Intellectual Property Office (EUIPO). The initiative will run from January 23, 2023 to December 8, 2023. Funds are limited and will be awarded on a first-come, first-served basis.
Why protecting your intellectual property is necessary
Protecting your IP is a must in the digital age. It is the only legal way to avoid having your unique ideas, products, or services copied or used without permission. IP protection can cover many different assets, including trade marks, designs, patents, corporate identities, products, services, and processes.

Who can benefit from the SME Fund
The SME Fund offers financial support to SMEs established in the European Union. The application can be filed by an owner, an employee or an authorised representative of an EU SME acting on its behalf. Grants are always transferred directly to the SMEs.

How the SME Fund works
The SME fund is a reimbursement programme that issues vouchers that can be used to partly cover the fees for the selected activities. Various vouchers are available:

Important: First apply for the grant, then make an appointment.
In order to receive the grant from the SME fund, please exactly follow the process set out by EUIPO: That means you must first apply to EUIPO for the grant and only after that can you make an appointment for an IP scan. More information is available on the

EUIPO website. Furthermore, you can open the

FAQ list on the SME fund. Please address any further questions directly to EUIPO.
---
Patent information centres – your local service providers
The German patent information centres are the regional IP contacts for inventors, companies and research institutions. As recognised long-standing cooperation partners of the DPMA, they offer comprehensive information on industrial property protection at 20 locations throughout Germany, especially for SMEs and people starting up in business. As competent service providers, they offer their customers high-quality, tailor-made services and guarantee confidentiality and secrecy.
More information about the patent management services offered by patent information centres is available at

www.piznet.de (in German).
Legal advice and representation
Basically you can apply for IP rights yourself. However, it may be useful to consult a patent attorney or a lawyer experienced in the field of IP protection before filing an application. This helps to avoid possible errors during the application procedure, which cannot be corrected later. If the sought-after IP right later brings significant added value for your company, the additional financial expense for legal representation should have been worthwhile.
Addresses of

patent attorneys can be found on the Internet.

Regular information events
Other organisations providing information and support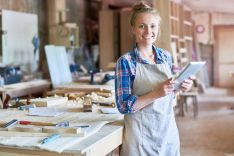 Funding opportunities for SMEs
Picture 1: iStock.com/stevanovicigor, Bild 3: EUIPO, Bild 4: EUIPO, Bild 4: EUIPO, Picture 3: iStock.com/seventyfour
Last updated: 6 February 2023