Content
"Smart IP" conference at the DPMA

Artificial intelligence and intellectual property rights

The DPMA has recently once again been the scene of a profound discussion on a topic which is currently of great interest not only to IP specialists but also to business, research and politics: Opportunities and risks of artificial intelligence and their significance for IP practice.
"Smart IP" was the topic of a round table on 22 February at the German Patent and Trade Mark Head Office. Together with the European Practitioniers in Intellectual Property (

UNION-IP), the DPMA invited to lectures and discussions on the topic "Applying intelligence to patenting, licensing and enforcing IP on new technology".
Everyone is talking about KI, said DPMA Vice-President Christine Moosbauer in her welcoming address. Among the many questions raised by new technologies is job security, according to Moosbauer: "Some employees ask themselves: will an algorithm one day replace me at my workplace? She is sure: we are far from that yet. "Humans will always have the last word."

Challenges for the legislator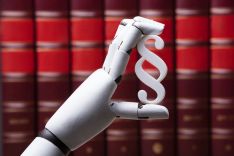 Many questions regarding the handling of AIs are still open, stated the Zurich lawyer Prof. Dr. Peter Georg Picht in his introduction. He outlined some current challenges, mainly from a legal perspective - competition law, fundamental rights and data protection, to name but a few.
Georg Weber from the European Patent Office gave an insight into the practice: In his presentation "Granting patents on new technologies", he described the recent exponential increase in applications relating to AI or computer-implemented inventions (CII) - especially in the area of autonomous driving. "We are currently experiencing the fourth industrial revolution," said Weber. The "Internet of Everything" (IoE) does not only influence the work of the examiners, but simply everything.
René Allart, Senior IP Counsel at Philips, reflected the perspective of the economy. Allart, who works in digital imaging, reported that artificial intelligence is playing an enormous and growing role in healthcare: "There are many start-ups in this area." Large companies such as Siemens, Philips or GE are still generating numerous patents in these areas, but Allart took the view that it could often make more sense to treat e.g. training algorithms for AI as trade secrets, for example, and only seek patent protection in special cases.

How do you assess the contribution of AIs to inventions?
Sven Hedmann from Ericsson also spoke about the boom of publications and patent applications around AI and the resulting problems and challenges. In his opinion, these include in particular the lack of legal precedents and current legal guidelines for AI-related inventions, but also the question of the interpretation of a technical contribution to an invention by an AI.
Subsequently, two judges reported on their work, on new dispute resolution procedures and their decision-making process. Matthias Zigann, chairman judge at the Landgericht München I, drew particular attention to the overloading of the courts in his presentation "Procedural challenges and new dispute solutions" and described his approaches to mastering the flood of paper. By the way, several participants at the conference complained that in the case of alleged patent infringements, legal action was taken too quickly these days and too little time was spent seeking an agreement.
Not comprehensible?
Amedeo Santosuosso, President of the IP Chamber at the Court of Appeal in Milan, spoke about "IP, AI and legal decision making" and some "critical points" such as the handling of bias in data sets or algorithms and the question of the comprehensibility of AI-calculated results.
In the third and final section of the round table, Christian Loyau of the European Telecommunications Standards Institute (ETS) spoke on "Licensing for a digital communication world: structures and framework" and AUDI manager Dr. Dominik Bauer on "License options and injunctions". This was followed by a very intensive and comprehensive panel discussion with all speakers and moderators, which once again made clear how many open questions still exist around AI and IP and that action needs to be taken.

Further articles in this dossier:

Pictures: iStock.com/wigglestick, iStock.com/andreypopov
Last updated: 22 June 2023