Content
(Not) comparable: BUNTE and Check24

BUNTE – the first magazine to publish a current colour photograph
BUNTE is one of the highest-circulation German magazines, published weekly by BUNTE Entertainment Verlag, which belongs to the Burda Group. The first forerunner of BUNTE was the magazine "Das Ufer", founded in 1948, which was the first magazine to publish a current colour photograph on the occasion of the coronation of Queen Elisabeth II in 1953.
In 1972, following the merger of the "Deutsche Illustrierte", "Münchner Illustrierte" and "Frankfurter Illustrierte" to form the "BUNTE Illustrierte", the magazine received its name and is now considered one of the largest people magazines in Europe. Per week 439,844 copies of the magazine are being sold, with a total readership of 4.43 million per issue. Since 2002, the "Illustrierte" has also been successful online.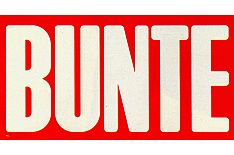 First word/figurative mark of 1980 (register number: 1004920)
2002, the "Illustrierte" has also been successful online.
In 1980, both a word mark and a word/figurative mark BUNTE were applied for. The latter consists of a white upper-case lettering on a red background and is still in use today. Over the years, the magazine has applied for quite a few word (figurative) marks in combination with the word BUNTE, which can be found in the DPMAregister database.
In 1976, Dr Hubert Burda took over the reins and handed them to Günter Prinz in 1988, who fully implemented the concept of the people magazine. From 1997 to 2016, Patricia Riekel, who above all successfully integrated the element "politics" into the magazine, was editor-in-chief. Since then, Robert Pölzer has been at the helm.

Check24 – the online comparison portal from Munich
The Check24 Vergleichsportal GmbH emerged from the Internet company Einsurance Agency AG, founded in 1999 by Henrich Blase and Eckhard Juls. In October 2008, the Munich-based internet company evolved from the merger of the comparison sites for insurance einsurance.de, for financial services and loans moneyworld.de and for gas and electricity providers tarifvergleich.de. The word/figurative mark Check24 (register number: 302008060193),

The first word/figurative mark of the company (register number 302008060193, date of filing: 17 September 2008, protection expired on 30 September 201
Check24 is an online price comparison site that now covers the areas of insurance, finance, energy, telecommunications, travel, shopping as well as craftsmen and specialists. The use is free for the final customers, since the site is financed by taking commissions for bringing business.
TV commercials, for which Check24 spent around 118 million euros in 2015 alone, have contributed significantly to raising the brand's profile. According to a representative survey conducted by the YouGov Brand Monitor in 2016, 30% of those surveyed have only recently seen a Check24 commercial, 68% of those surveyed know the Check24 brand, and as many as 93% of online users know it. The company, which has an annual turnover of almost 500 million euros (2015/16), is also known as a sponsor of numerous TV sports broadcasts in addition to the commercials reminiscent of American sitcoms.

Picture 1: istock.com/Lawrey; Picture 2 and 3: DPMAregister
Last updated: 3 February 2023