Content
Fashion from Munich: Etienne Aigner and Hallhuber

The current word/figurative mark of the company since 1998 (register number: DE 39802032, date of filing: 16 January 1998, trade mark registered)
Etienne Aigner – a symbol of quality, craftsmanship and good luck
In 1965, Etienne Aigner and Heiner Rankl founded the Aigner company in Munich, where it still has its headquarters today. On 24 August 1966, the trade mark was registered at the German Patent Office in Munich (filing date: 9 March 1965).
Etienne Aigner, a Hungarian designer, who presented his first collection of bags in New York in 1950, became a specialist in traditional leatherwork techniques for bags and belts when he worked in haute couture houses such as Dior and Hermès.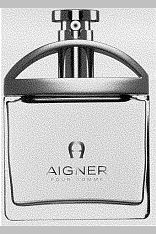 Three-dimensional Aigner trade mark DE30048008
When Aigner met the businessman Heiner Rankl, it quickly became clear that Munich was an ideal place for founding a new, large German fashion brand, since there was a spirit of optimism in Munich in the 60s and 70s and it was popular among jet-setters.
The Aigner trade mark still stands primarily for high-quality leather goods such as bags, shoes, belts and small leather articles. But accessories and perfumes have also become part of the trade mark portfolio.
Today, the company, which pursues a high-price strategy, employs a young, multicultural design team, which ensure a balance between "classic" and "innovative". And successfully too: With a total of 134 franchise shops and just under 300 outlets, the brand is present in 40 countries and has a level of recognition of 85% (GfK, 2006).
The trade mark symbol – consisting of the upper-case letter "A" in the shape of a horseshoe and the name Aigner – is one of the most striking logos in the world. Through the use of high-quality leather, there is a link to equestrian sport: Bag-making and saddlery trades are closely related. For the company it was obvious to choose the horseshoe as a symbol for high quality as well as craftsmanship. Last but not least, the horseshoe is a symbol of good luck, known throughout the world.

Hallhuber – from chain of fashion stores to independent fashion brand
In 1977, Josef Hallhuber and his son Klaus founded the company Hallhuber in Munich, where it is still located today. Hallhuber GmbH has more than 400 shops in Germany, Austria, Belgium, the United Kingdom, Norway, Switzerland, Luxembourg and the Netherlands. In addition, Hallhuber GmbH has launched online stores in Germany, Austria, Switzerland, the United Kingdom and France.

The word/figurative mark of the company registered since 2015 (register number: 302015105042, date of filing: 5 August 2015)
The Hallhuber story began when the first fashion store opened in Munich in December 1977: Trend-conscious fashion and brands, such as those offered in this form, were virtually unknown until then. Over the years, Hallhuber developed from a chain of fashion stores into an independent fashion brand and is now one of the best known in Germany. In 1993, Hallhuber applied for the word/figurative mark "HALLHUBER Nothing but clothes", which was replaced by the clean, modern "HALLHUBER" word/figurative mark in 2015.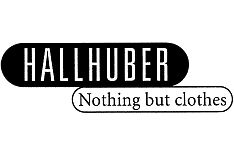 Trade mark DE2093257, meanwhile cancelled
Under the management of Susanne Hallhuber, the Hallhuber design team, which is part of an international network, designs the two trendy and high-end ladies' wear collections HALLHUBER (registered as a word mark, register number 30407366, filing date: 11 February 2004) and DONNA BY HALLHUBER (registered as a word mark, register number: 30119905, filing date: 26 March 2001). Hallhuber offers its customers a range of top-quality and current fashion trends (clothing, shoes, accessories) as well as quality basics in the mid-price segment.
Every two weeks, a new collection appears under the Hallhuber label, which are focusing on the best outfit combinations and a complete look.
Since February 2015, Hallhuber has belonged to the fashion and lifestyle group Gerry Weber International AG based in Hall/Westphalia. In July 2019, Gerry Weber sold the majority stake in the Hallhuber GmbH to a fund managed by Robus Capital Management.

Pictures: DPMAregister
Last updated: 3 February 2023