Content
Mobile Munich: Motel One and Flixbus

The first word/figurative mark of the Motel One GmbH (register number: 39949925, date of filing: 18 August 1999, trade mark registered)
Motel One – less is sometimes more
Motel One is a German (low-budget) hotel chain and was founded by Dieter Müller in Munich, in 2000. Today, he and his wife Ursula Schelle-Müller manage the company. The first Motel One opened in Offenbach am Main, others followed quickly. The hotels were mostly located near major cities. In 2004, there was a shift in strategy, with new hotels being opened in central locations in major cities. The second word/figurative mark of the hotel chain, which is still valid today, was applied for on 14 September 2012.
In December 2017, the largest Motel One so far with 700 rooms was opened on Alexanderplatz, Berlin. In early 2019, Motel One had 71 hotels with over 20,000 rooms in nine countries, most of the hotels are located in Germany, six in Austria, seven in the UK, two each in the Netherlands and Switzerland and one each in Belgium, France, Spain and the Czech Republic.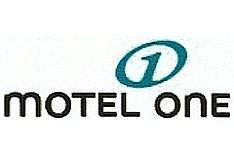 Word/figurative mark of the Motel One GmbH (register number: 302012049359, date of filing: 14 September 2012, trade mark registered)
Many things which are part of the basic equipment of rival hotels are missing in the hotel rooms of Motel One, since they are considered to be unprofitable and unnecessary by the Motel One management: wardrobe, safe, minibar and telephone. Nor are there any conference rooms or restaurants.
However, the lounge is always an eye-catcher: in Berlin, it reflects the golden 1920s, in Cologne the carnival and in Munich, near the Deutsches Museum, striking inventions. Each lounge has its own theme, which is creating a sense of identification. Ursula Schelle-Müller, the owner, came up with the idea, just as she developed and established the colour turquoise as trade mark colour. Both contribute significantly to the success of Motel One.
In winter a cosy fire is crackling on the screen in the lounge and in summer the underwater world of an aquarium is bubbling away. This can now be found in every Motel One and has a high recall value. Just like the layout, which is the same in all hotels: the reception is on the left, on the right the lounge, which serves as a breakfast area in the morning.

Flixbus – by bus to 110 German cities

Word/figurative mark of the FlixMobility GmbH (register number: 3020162234664, date of filing: 17 August 2016, trade mark registered)
On 17 August 2016, FlixMobility GmbH applied for the word/figurative mark FlixBus. In 2011, the Munich-based company providing long-distance bus services was founded under the name GoBus and renamed FlixBus in 2013. Until the end of 2012, long-distance bus lines were not allowed to carry passengers within Germany in order to protect regional rail services. In 2013, the Personenbeförderungsgesetz (Passenger Transport Act) was amended, deregulating long-distance bus transport in Germany.
On 13 February 2013, FlixBus started regular operations offering several daily direct connections between Munich, Nuremberg and Erlangen. In the course of 2013, the intercity bus network was extended to the whole of Germany and neighbouring countries. Since 2016, FlixBus has offered its own roughly 60 long-distance bus lines and daily direct connections to 110 German cities and around 30 destinations in other European countries. At the end of May 2018, FlixBus expanded into the USA, where services are provided by local bus companies. In early May 2019, FlixBus reached an agreement with its French competitor Transdev to take over Eurolines and the trade mark Isilines, which is particularly popular in France. Last year, FlixBus transported around 2.5 million passengers.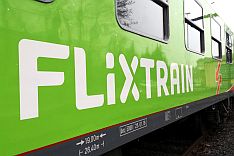 Since March 2018, rail travel has also been offered on some routes in Germany under the word mark FlixTrain (filing date: 9 January 2016, register number: 014986996) in addition to coach travel.
In August 2017, FlixTrain, a subsidiary specifically founded for this purpose, was granted a licence for railway transport. Since March 2018, FlixTrain has offered train connections between Hamburg and Cologne and, since May 2019, between Berlin and Cologne, and a night train with sleeper cars, couchettes and seating compartments from Lörrach via Freiburg and Hanover to Hamburg. Currently, FlixTrain is the only competitor of Deutsche Bahn in long-distance connections, apart from foreign railway companies.


Picture 1 and 2: DPMAregister, Picture 3 and 4: Flixmobility GmbH
Last updated: 3 February 2023