Content
The Spirit of Currywurst

73th anniversary of a popular dish with tangy sauce – or was it completely different after all?
It is said to have happened exactly 73 years ago: On 4 September 1949, Herta Heuwer's snack stand on the corner of Kantstrasse/Kaiser-Friedrich-Strasse in the Charlottenburg district of Berlin was not very busy. So she experimented with different ingredients like tomato paste, curry powder and Worcestershire sauce. However, other sources say that Heuwer had simply run out of mustard and was looking for a new sauce for her sausages, on a rainy Sunday. Whether it was a brilliant idea born of boredom or an emergency measure, the sauce for the currywurst (curry sausage) was born which later became a world famous German export hit.
From Berlin, Hamburg or from the Ruhr area?
However, the matter is not quite so clear: For example, Uwe Timm claimed in his book "Die Entdeckung der Currywurst" (English title: The Invention of Curried Sausage) that the iconic snack with sauce was invented in Hamburg. Timm's protagonist Lena Brücker sold curry sausages at her snack stand on the Großneumarkt square in Hamburg. Although Lena Brücker is only a fictitious character, she was honoured by the City of Hamburg with a commemorative plaque at the Großneumarkt in 2003. Author Timm cited as proof that he had eaten the sausage as a child in Hamburg in 1947. And the Ruhr area, too, has declared itself to be the home of the currywurst. For example, Herbert Grönemeyer, the bard of the Ruhr area, sang a song about the popular dish – it is less well known that the song had been written by the comedian Dieter Krebs, who died far too soon.
It was not a patent but a trade mark
In any case, Berlin definitely claims the invention of the currywurst for Herta Heuwer. The resolute lady herself allegedly declared: "I've got the patent, and that's that!" However, she did not get a patent for the recipe, which would not have been so easy by the way (read also our FAQ: How can I protect a food recipe or formulation?). This would also have meant that she would have had to reveal the exact recipe. She closely guarded it all her life and took it "to her grave" in 1999.
On 21 February 1958, Heuwer filed an application for the fanciful name "Chillup" with the patent office (probably a combination of chilli and ketchup). On 21 January 1959, the word/figurative mark "Chillup" was registered under number 721319 as a trade mark for "special sauce" in the German Patent Office's trade mark register.

From "Spirit of Currywurst" to "Wurstdurst"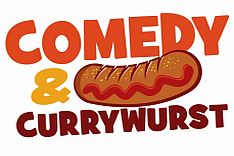 Trade mark DE 302016211722
Speaking of trade marks: A look at the trade mark register in the DPMAregister database makes you wonder what the "Spirit of Currywurst" (DE 302009019187) could be, whether a "Wurstdurst" (thirst for sausage) (DE 302012048308) really exists and how "Comedy und Currywurst" (DE 302016211722) fit together? In any case, these signs are registered as trade marks. If only, because as figurative marks they have a certain graphic design.
The following terms were not registered as trade marks because there is a need to keep them available for the general public and they are not distinctive, for example: "Currywurst" (DE 302314725), "It's Currywurst time" (DE 3020110219834), "Knusper-Currywurst" (DE 3020100324120) and "Currywurst Quickie" (DE 3020182144709).
The "Berliner Currywurst mit Darm" (with skin) (DE 302015054263) and "Berliner Currywurst ohne Darm" (without skin) (DE 302015054262) are registered as what are known as collective marks. Collective marks can be applied for, for example, by registered associations on behalf of their members. Unlike individual trade marks, collective marks may consist exclusively of indications designating the geographical origin of the goods, in this case "Berlin currywurst".
In addition, an application for registration of "Berliner Currywurst ohne Darm" (31 2017 001 169.4) as a protected geographical indication (PGI) is still pending. The DPMA and also the Federal Patent Court have affirmed that the name is protectable as a geographical indication. Now the application will be forwarded to the EU Commission in Brussels, which will then re-examine the application.

"...Tradition and eternal delight"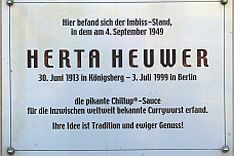 Commemorative plaque for Herta Heuwer
Well, who actually did invent the sausage with sauce? We don't know. What Berlin as the "currywurst capital" claims for itself is written on a commemorative plaque on the house no. 101 on Kantstrasse (corner of Kaiser-Friedrich-Strasse), unveiled by the district mayor of Berlin Charlottenburg-Wilmersdorf in 2003

(speech (in German) by the then district mayor Monika Thiemen on occasion of the unveiling of the commemorative plaque for Herta Heuwer): "Here was the snack stand where Herta Heuwer invented the savoury Chillup(R) sauce for the currywurst, on September 4, 1949, which is now known all over the world. Her idea is tradition and eternal delight". – No more and no less.

Picture 1: iStock.com/monica_photo, Picture 2: DPMA, Picture 3: DPMA, Picture 4: OTFW (Berlin, CC BY-SA 3.0)
Last updated: 17 October 2023