Content
Research on drugs, drive system, renewable energy – three innovative developments nominated for Deutscher Zukunftspreis
Press release of 12 September 2018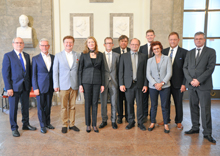 Nominees and organizers of the Deutscher Zukunftspreis award
Munich. A brand-new drug against life-threatening diseases, a fundamental redesign of a drive system and an innovative method to make better use of renewable energy: The three teams nominated for the Deutscher Zukunftspreis 2018 (German President's Award for Innovation in Science and Technology 2018) and their inventions were presented in Munich today. "The jury has nominated impressive personalities for the award. Their inventions cover a comprehensive spectrum and show how broadly Germany is positioned as a centre for innovation even at the very top," Cornelia Rudloff-Schäffer, President of the German Patent and Trade Mark Office, stated. "I am particularly pleased that, in contrast to previous years, there is a woman among the nominees this year."
The three final applicants were presented at a press conference at the Deutsches Museum:
Professor Helga Rübsamen-Schaeff and Dr Holger Zimmermann have developed Prevymis (letermovir), an innovative drug. It prevents infections caused by the dangerous cytomegalovirus (CMV) during stem cell transplants. This leads to such transplants being considerably safer, treatments becoming more promising and the lives of patients being better protected.
Dr-Ing E.h. Manfred Wittenstein and Dipl-Ing Thomas Bayer have developed the "Galaxie" Drive Systems, a new gear type for efficient and precise drives in high performance engineering. Innovative gear teeth provide for a surface for power transmission that is six times larger than that of conventional gears. This way, much higher torques can be achieved than before.
Professor Peter Wasserscheid, Professor Wolfgang Arlt and Dr Daniel Teichmann have developed a new method to make hydrogen usable for energy supply – the Liquid Organic Hydrogen Carrier (LOHC) technology. The liquid, organic carrier material guarantees the transport safety of the hydrogen. By burning hydrogen, engines can be operated in an environmentally friendly way, for example in cars.
On 28 November in Berlin the jury will select the award winners from the three nominated teams, who will then be honoured by the German President.

The German Patent and Trade Mark Office
Inventiveness and creativity need effective protection. The DPMA is the German centre of expertise for all intellectual property rights – patents, utility models, trade marks and designs. As the largest national patent office in Europe and the fifth largest national patent office in the world, our office stands for the future of Germany as a country of inventors in a globalised economy. Its staff of over 2,600 at three locations – Munich, Jena and Berlin – provide services for inventors and companies. They implement federal innovation strategies and develop the national, European and international protection systems further.
DPMA
Last updated: 1 December 2023