Content
"Most innovative minds of our continent": DPMA Vice-President congratulates winners of the European Inventor Award 2018
Press release of 7 June 2018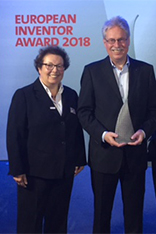 Professor Jens Frahm with DPMA-Vice-President Christine Moosbauer
Paris. Christine Moosbauer, Vice-President of the German Patent and Trade Mark Office (DPMA), personally congratulated physical chemist Professor Jens Frahm in Paris on being awarded the European Inventor Award. "I congratulate Professor Jens Frahm on the high-ranking award and am very pleased for this outstanding researcher," Christine Moosbauer said on the sidelines of the award ceremony in the French capital on Thursday, 7 June 2018. "Jens Frahm impressively shows how scientific research can lead to marketable products that not only create sales and jobs, but also improve people's lives." Professor Frahm was recognised with the European Inventor Award in the category "Research".

MRI: Flash shots from the Body
Professor Jens Frahm is head of the Biomedizinische NMR Forschungs GmbH at the Max Planck Institute for Biophysical Chemistry in Göttingen. The 67-year-old researcher revolutionised magnetic resonance imaging (MRI) with his method known as fast low angle shot (FLASH). Previously, it had taken several hours to capture MRI images – far too long for medical diagnostics. With FLASH this went 100 times as fast. In 1985, together with other researchers, Professor Frahm applied for his first patent for this invention at the DPMA. In 2010, he optimised the method again, with FLASH 2. "Professor Frahm's inventions have improved the treatment options for millions of people worldwide. We are delighted that along with Professor Frahm, a development has been honoured whose patent law foundations have been laid in our office."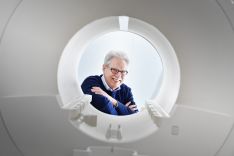 The DPMA Vice-President also congratulated the other winners on their awards. "The European Inventor Award brings together some of the most innovative minds of our continent and beyond. The proposed developments, but also the people behind them, never fail to fascinate." The prize, which is annually awarded by the European Patent Office (EPO), honours personalities from science, research and development in five categories. This year, 15 inventors from 13 countries were nominated.
The German Patent and Trade Mark Office
Inventiveness and creativity need effective protection. The DPMA is the German centre of expertise for all intellectual property rights – patents, utility models, trade marks and designs. As the largest national patent office in Europe and the fifth largest national patent office in the world, our office stands for the future of Germany as a country of inventors in a globalised economy. Its staff of over 2,600 at three locations – Munich, Jena and Berlin – provide services for inventors and companies. They implement federal innovation strategies and develop the national, European and international protection systems further.

Picture: Dr Volker Rüger / DPMA, Picture: Frank Vinken / MPG
Last updated: 11 May 2023