Content
Artificial intelligence: US companies well ahead with patent applications for Germany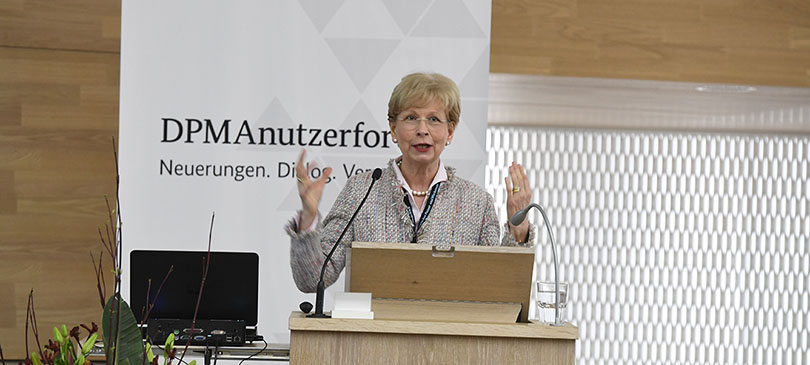 Analysis of the DPMAnutzerforum: US companies in Germany are filing twice as many AI patents as German companies – DPMA President: The gap in this future topic must not widen further
Press release of 11 April 2019
Munich. The German innovation landscape is dominated by American patent applicants when it comes to artificial intelligence (AI). As much as 36.2 per cent of patent applications published last year by the German Patent and Trade Mark Office (DPMA) and the European Patent Office with effect for Germany came from the United States – only half as many (18.1 per cent) came from Germany. Japan (13.3 per cent), China (5.2 per cent), Korea (3.7 per cent), France (3.3 per cent)and the Netherlands (2.9 per cent) follow in the ranking per country. This is the conclusion of an analysis published today by the DPMA on the occasion of its annual DPMAnutzerforum conference. According to the data, Germany has continued to lose ground compared to the United States in recent years. In 2013, 35.1 per cent of published patent applications came from the USA and 19.5 per cent from Germany. China, which almost tripled the number of its applications in this period and increased its share of the total number of applications from 2.1 to 5.2 per cent, made the relatively largest leap among the countries mentioned. According to a recently published study by the Mercator Institute for China Studies, 30,000 patents were applied for internationally by China in 2018. China is on its way to becoming a leading nation in digital key technologies, the study concludes.
"Even though the German manufacturers seem to be doing relatively well on their domestic market at present, the dominance of American companies is already clearly visible today. A race between the USA and the Far East is becoming apparent for the future," DPMA President Cornelia Rudloff-Schäffer said at the DPMAnutzerforum in Munich. "The innovative capacity of German companies and of our country as a whole crucially depends on developments in the field of machine learning and artificial intelligence. We must be careful that the gap in this central future topic does not widen even further."

Key drivers: autonomous driving, medical technology, robotics

Overall, the number of patent applications with effect for Germany in these key technologies increased by 80 per cent over the past ten years – from 3,142 in 2009 to 5,654 in the past year. Among the key drivers are applications for autonomous driving. In the traffic and vehicle technology sector, applications tripled in the same period: In 2009, the two patent authorities registered 327 applications, last year there were as many as 966. The development in medical technology was similarly dynamic (+131 per cent). In robotics as well as in general controlling technology, for example, the growth rates are even higher, although in absolute terms the number of applications is significantly lower. In 2018, most applications were filed for computer technology required for

artificial intelligence (PDF document only in German).

DPMAnutzerforum with a new concept

But the DPMAnutzerforum 2019 did not only focus on artificial intelligence. The expert audience were also interested in other questions: What's new in IT services and IP procedures? How was the reform of trade mark law implemented? Which challenges will intellectual property owners have to face in the digital world? This year's event featured a new concept. It included expert forums, panel discussions and lectures dealing with a variety of intellectual property topics and DPMA services. The guests were also able to participate in the debate using posters for sharing opinions and a "graphic recorder" summarized important results in a digital work of art. More than 200 experts took part in this year's DPMAnutzerforum. "We are very pleased about the great response and are planning further innovations for our event next year," DPMA President Cornelia Rudloff-Schäffer announced.

The German Patent and Trade Mark Office

Inventiveness and creativity need effective protection. The DPMA is the German centre of expertise for all intellectual property rights – patents, utility models, trade marks and designs. As the largest national patent office in Europe and the fifth largest national patent office in the world, our office stands for the future of Germany as a country of inventors in a globalised economy. Its staff of over 2,600 at three locations – Munich, Jena and Berlin – provide services for inventors and companies. They implement federal innovation strategies and develop the national, European and international protection systems further.

Methodology of evaluation:

The analysis of artificial intelligence is based on what is referred to as IPC classes. The IPC is an internationally valid, hierarchically structured classification system dividing the entire field of technology into classes, thus assigning all patent documents to specific areas worldwide. In our evaluation, we have identified and used the IPC classes of those areas of technology in which applications relating to artificial intelligence are primarily filed. Accordingly, all applications contained in these IPC classes have been included in the present evaluation, which was carried out in March 2019.
It should be noted that there is no general definition for the classification of patent documents as artificial intelligence. There is also no IPC class that deals exclusively with artificial intelligence; it is therefore not possible to make a completely clear distinction from other areas of technology. The evaluation therefore represents a meaningful approximation for an analysis of artificial intelligence.

Picture: DPMA/Frank Rollitz
Last updated: 11 May 2023