Content
The Deutscher Zukunftspreis award: "Impressive developments – important challenges"
Business organisation, medical imaging, plastics production – three development teams nominated for the Deutscher Zukunftspreis (the German Federal President's award)
Press release of 11 September 2019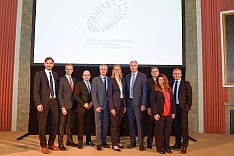 (from left to right): Klenk, Rinke, Nominacher, Prof. Dr. Leitner, Dr. Stange, Dr. Gürtler, Prof. Dr. Ladd, Dr. Triantafyllou, Prof. Dr. Dörfler
Munich. An innovative method for business organisation, highly efficient medical imaging and a promising technology that turns carbon dioxide into plastic: These are the contributions of the three finalists for the Deutscher Zukunftspreis 2019 award, endowed with 250,000 euros. Today, the nominated teams were presented at a press conference at the Deutsches Museum in Munich. "More effective business management, diagnosis and treatment of diseases, conservation of resources – the nomination of these three outstanding developments by the Deutscher Zukunftspreis also highlights three questions of great relevance for the future," Cornelia Rudloff-Schäffer, President of the German Patent and Trade Mark Office, said. "The research and development achievements of the nominees are impressive and show once again how inventiveness and innovation can enrich our lives and strengthen our economy."
The following teams are nominated for the Deutscher Zukunftspreis 2019, the Federal President's award for Innovation in Science and Technology:
Dr Christoph Gürtler, Dr Berit Stange (both of Covestro Deutschland AG, Leverkusen) as well as Professor Dr Walter Leitner (Chair of Technical Chemistry and Petrochemistry of the RWTH Aachen University) have developed a technology that uses carbon dioxide as a component for high-quality plastics. Climate-damaging carbon dioxide is being produced in huge quantities during combustion processes in power plants, factories and cars. Because the gas contains carbon just like petroleum, it can partially replace the carbon in producing plastics thanks to the new method – for example in the manufacture of mattresses, sports floors, textile fibres or insulating materials.
Alexander Rinke, Bastian Nominacher and Martin Klenk (Celonis SE, Munich) developed a process mining software that is a key technology for the digital transformation and future value creation in companies worldwide. Process mining can be used to analyse how business processes identified in a company are actually being managed in practice. Where are the vulnerabilities, bottlenecks, inefficiencies? Celonis software will identify them – even in companies with highly complex process chains. This also opens up new opportunities for small, medium-sized and large companies to identify potential efficiencies and expedite processes.

Dr Christina Triantafyllou (Siemens Healthcare, Erlangen), Professor Dr Mark E. Ladd (German Cancer Research Center, Heidelberg) and Professor Dr Arnd Dörfler (Universitätsklinikum Erlangen) have achieved a breakthrough in precision medicine with their 7 Tesla magnetic resonance (MR) scanner Magnetom Terra. Compared to previous technologies, Magnetom Terra achieves imaging with much higher resolution. The new technology allows tissue structures and even metabolic processes in the body to be analysed more precisely. In this way, some tumours can be better identified and a clearer distinction can be made between white and grey brain matter in cases of neurodegenerative diseases such as epilepsy or multiple sclerosis.
The Deutscher Zukunftspreis will be awarded by the Federal President on 27 November 2019 as part of an evening event, live streamed and broadcast on TV by ZDF.

The German Patent and Trade Mark Office

Inventiveness and creativity require effective protection. The DPMA is the German centre of expertise for all intellectual property rights – patents, utility models, trade marks and designs. As the largest national patent office in Europe and the fifth largest national patent office in the world, our office stands for the future of Germany as a country of inventors in a globalised economy. Its staff of over 2,600 at three locations – Munich, Jena and Berlin – provide services for inventors and companies. They implement federal innovation strategies and further develop the national, European and international protection systems.
Pictures: Deutscher Zukunftspreis
Last updated: 1 December 2023