Content
Fight against product piracy: G7 IP leaders intend to intensify cooperation
Patent and trade mark offices of the leading economies deliberate under Germany's presidency of the G7 – counterfeiting causes damage to all industries – consumers can help fight counterfeiting and product piracy
Press release of 9 December 2022

Dr. Wichard (BMJ), Mr Georgaras (CIPO - Canada), Mr Tang WIPO, Ms Rudloff-Schäffer (DPMA), Ms Perlmutter (US Copyright Office - USA), Ms Vidal (USPTO - USA), Mr Teti (UIBM - Italy), Mr Bartlett und Mr Cope (UKIPO - UK), Mr Faure (INPI - France), Mr Hamano (JPO - Japan)
Munich. At a high-level meeting with the World Intellectual Property Organization (WIPO) and the Federal Ministry of Justice, the IP offices of the seven leading economies (G7) have agreed to intensify their cooperation on fighting counterfeiting and product piracy. In a joint statement, the heads of offices stressed that an "effective response" to these global phenomena would be required. In addition, they have agreed to also enhance international cooperation as a whole in order to promote a "positive IP culture".
The virtual meeting, jointly chaired by the Federal Ministry of Justice and the German Patent and Trade Mark Office (DPMA), was attended by the heads of offices from Germany, France, Great Britain, Italy, Japan, Canada, the United States and by the Director General of the World Intellectual Property Organization.
Counterfeiting of COVID-19 test kits and vaccines
In their joint statement, the heads of offices drew particular attention to the risks counterfeit products might pose: "Goods can pose a risk to the health and safety of consumers, undermine the rights of employees and the reputation of holders of IP rights and facilitate criminal activities such as money laundering." As an example, the offices cited the increase in counterfeit goods associated with the coronavirus pandemic, e.g. test kits, protective equipment and vaccines. The heads of offices also invited other institutions and consumers to help fight counterfeiting and product piracy.
"Especially in the industrial countries, product piracy causes considerable economic damage. Almost every industry is affected," DPMA President Cornelia Rudloff-Schäffer said. She added that the ever-growing significance of online trade was aggravating the problem: "During the pandemic, more products were ordered online and as a result, more counterfeit products were put on the market. This impedes the fight and requires a strategy agreed with all national and international stakeholders."
Be careful when buying Christmas presents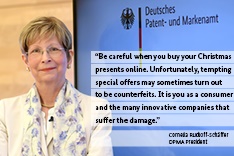 In view of this, the DPMA President calls on consumers to help fight counterfeiting and product piracy, particularly during the current Christmas shopping season: "Be careful when you buy your Christmas presents online. Unfortunately, tempting special offers may sometimes turn out to be counterfeits. It is you as a consumer and the many innovative companies that suffer the damage."
The consumer advice centres in Germany provide important information you should consider when buying online in order not to fall for counterfeits. Consumers should definitely be vigilant about:

a remarkably low price: If an online store offers a bunch of remarkably low prices, you should be vigilant. Prior to buying, you should get an overview and find out the usual price of the good you want to buy – e.g. on price comparison sites. If a price is considerably lower than the usual price, this may be an indication for a counterfeit.
the payment method: If payment in advance is the only payment method accepted for an order, caution is advised. The practice should be: Payment is made only after the goods have been delivered.
the environment/distribution channel: Some branded products are offered exclusively through regulated distribution channels (flagship store, the brand's own online store, direct marketing). Accordingly, consumers should make sure that the distribution channel is usual for the product concerned.
Furthermore, the consumer advice centres draw attention to the

phenomenon of fake shops on the internet.

Sales of counterfeits amount to 412 billion euros per year
According to a study conducted by the European Union Intellectual Property Office and the Organisation for Economic Co-operation and Development (OECD), in 2019 alone, counterfeits worth 412 billion euros were traded worldwide, representing 2.5% of global trade. In Europe, the share of counterfeit products in all EU imports was 5.8% and thus even considerably higher. In 2019 counterfeit products worth 119 billion euros were imported into the European Union. Counterfeits are largely produced in China. The most-seized goods are shoes, followed by clothing, leather articles, electronic devices and cosmetics. Goods that pose significant health or safety risks, such as drugs and car parts, are also counterfeited and offered on a large scale.
According to findings by the EUIPO, buying counterfeit products is very common, particularly among young people. In an

EUIPO study published this year, more than half (52%) of the EU citizens aged between 15 and 24 answered that they had knowingly or accidentally bought at least one counterfeit product via the internet.
On 1 December 2022, the European Commission issued a

Counterfeit and Piracy Watch List. This list indicates both providers of online services and physical marketplaces outside the European Union reported to commit or facilitate significant infringements of IP rights, especially by counterfeiting and piracy.

The German Patent and Trade Mark Office
Inventiveness and creativity need effective protection. The DPMA is the German centre of expertise for all intellectual property rights – patents, utility models, trade marks and designs. As the largest national patent office in Europe and the fifth largest national patent office in the world, our office stands for the future of Germany as a country of inventors in a globalised economy. Its staff of just under 2,800 at three locations – Munich, Jena and Berlin – provide services to inventors and companies. They implement federal innovation strategies and develop the national, European and international protection systems further.
Picture 1: DPMA, Bild 2: DPMA
Last updated: 9 December 2022