Content
Deutscher Zukunftspreis: two DPMA proposals among the nominated innovations

The two nominated teams proposed by the DPMA
Outstanding new developments for tumour treatment and laboratory analysis in the final – DPMA President: "Encouraging perspectives for many seriously ill people"
Press release of 14 September 2022
Munich. A system for high-precision tumour treatments and a high-resolution 3D microscope that opens up new possibilities in diagnostics: Two innovations proposed by the German Patent and Trade Mark Office (DPMA) are nominated for the German Federal President's Deutscher Zukunftspreis award, this year.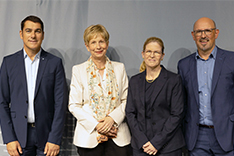 DPMA president Cornelia Rudloff-Schäffer with Stefan Vilsmeier, Claus Promberger and Prof. Dr. Cordula Petersen
"We are very pleased that the prestigious jury of the Deutscher Zukunftspreis award follows the suggestions of our experts. Above all, however, we congratulate the two excellent teams from research and development on their nomination, which is in itself an outstanding recognition," DPMA President Cornelia Rudloff-Schäffer said. "Lives often depend directly on precise medical diagnostics. The impressive progress made in this field will create encouraging new perspectives for many seriously ill people." The third nominated innovation is a new technology for fast charging of electric vehicles.
The following teams are nominated for the 2022 Deutscher Zukunftspreis (the German Federal President's Award for Technology and Innovation 2022):

Stefan Vilsmeier and Claus Promberger of Munich-based Brainlab AG and Professor Cordula Petersen of the University Medical Center Hamburg-Eppendorf have developed a system for high-precision patient positioning and monitoring for radiotherapy – such as for lung cancer. The new "ExacTrac Dynamic" system monitors the patient's movement and the respiration-induced tumour motion (tracking). For this purpose, measurement data from a 3D surface camera and a thermal sensor are combined with stereoscopic real-time X-ray data. Software calculates a correlation model of the internal and surface movement. This allows the system to position the X-ray beam precisely at the tumour. Damage to the surrounding healthy tissue is thus minimised.

Dr Thomas Kalkbrenner, Dr Jörg Siebenmorgen and Ralf Wolleschensky of ZEISS Research Microscopy Solutions in Jena have presented a new, high-resolution 3D fluorescence microscope for examining biological samples. The microscope minimises the undesirable effect of so-called phototoxicity, that is the damage inflicted on living organisms by the absolutely necessary light. Cells can thus be observed over longer periods of time without results being distorted. The device is also easy to operate and enables the continued use of established sample preparations. It also allows rapid analysis of a large number of samples (high-throughput screening) and makes it easy for non-academic staff to carry out experiments.

Thomas Speidel and Dr Thorsten Ochs of ads-tec Energy GmbH in Nürtingen and Stefan Reichert of the Fraunhofer Institute for Solar Energy Systems ISE in Freiburg use their "ChargeBox" to enable nationwide, ultra-fast charging of electric vehicles (EV) even in the existing, often power-limited grid. For this purpose, battery systems are used as buffer storage between low-voltage grid and vehicle. EV charging is thus possible even in city centres and remote rural areas with low-power grid connections.
The three nominated teams have presented their developments today at Deutsches Museum in Munich. The jury will decide who wins on 26 October. The German Federal President Frank-Walter Steinmeier will then award the 2022 Deutscher Zukunftspreis in Berlin in the evening.
The German Patent and Trade Mark Office
Inventiveness and creativity need effective protection. The DPMA is the German centre of expertise for all intellectual property rights – patents, utility models, trade marks and designs. As the largest national patent office in Europe and the fifth largest national patent office in the world, our office stands for the future of Germany as a country of inventors in a globalised economy. Its staff of just under 2,800 at three locations – Munich, Jena and Berlin – provide services to inventors and companies. They implement federal innovation strategies and develop the national, European and international protection systems further.
Picture: Pöhlmann/DPMA, Deutscher Zukunftspreis Bildschoen, Deutscher Zukunftspreis Ansgar Pudenz, Pöhlmann/DPMA
Last updated: 14 September 2022