Content
Aviation pioneer Richard Pearse

NZ21476
120 years ago: The world's first motor flight?

Perhaps he was the world's first powered aviator: Richard Pearse. Never heard of him? Quite possibly! After all, we have all learned for generations that the Wright brothers were supposedly the first to get an airplane with an engine up into the air. Yet it is by no means certain that no one flew before them. Gustav Weißkopf possibly preceded them - and perhaps Richard Pearse as well. 120 years ago, on March 31, 1903, he is said to have completed a short flight in a self-built powered aircraft in Waitohi in New Zealand.
Pearse, born in Temuka on December 3, 1877, was a highly gifted self-taught technician who was already noticed at school for his passion for tinkering. His parents, Irish-born farmers with nine children, could not afford to send more than one child to university, and his older brother was already studying medicine. So Pearse received no higher education, but on his 21st birthday he was given a huge plot of land in South Canterbury to farm and work on his inventions.

"Bamboo Dick" and his high-wing monoplane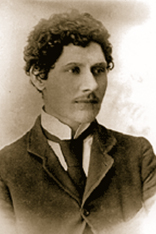 Richard Pearse, around 1903
Well hidden behind a huge gorse hedge was the farmhouse he converted into his workshop. On February 8, 1902, he filed a patent for a bicycle ("Improvements in, and connected with bicycles," NZ14507). That same year, he began work on his flying machine.
Pearse's airplane, which (perhaps?) made engineering history, was a high-wing monoplane with a wingspan of about seven and a half meters. A 24-horsepower Otto two-stroke engine powered an eight-bladed propeller. The frame was made of aluminum and bamboo wood, a material he used frequently and which earned him the nickname "Bamboo Dick." The wings were covered with canvas, and the three-wheeled landing gear was welded from tubular steel. The aircraft had ailerons and elevators. The pilot sat below the engine on a movable seat that could cushion even a violent impact.

End in the gorse hedge
One day, Pearse reportedly rolled his plane onto Waitohi's main street and set it up at the intersection in front of a school. It took hours of trying before the engine started, one hears. But did Pearse actually fly then? In painstaking research work, researchers later identified a total of 55 witnesses to Pearse's activities, some of whom claim to have seen a short flight that ended in the gorse hedge. Some also claim to have seen only the plane on the hedge. Its flight is said to have reached a height of about three and a half meters and extended for 100-200 meters - until the hedge got in the way. Research crystallized the probable date of this event as March 31, 1903, a Tuesday. That would have been six months before the Wrights' first flight.

Adding to the many ambiguities surrounding this event was, unfortunately, Pearse himself. In contrast to Gustav Weißkopf , for example, who may have made the first powered flight as early as 1901, he himself did not claim to have flown at all. In 1909, he said in an interview that he had "not attempted anything practical with the idea" before 1904. Later he also said that the Wrights had been the first motor pilots ("as they were actually the first to make successful flights with a motor-driven aeroplane"). However, this assessment may have been due to Pearse's high standards for a real flight. He probably did not consider his crash landing in the hedge as a real flight. But the famous first flight of the Wrights was - what Pearse perhaps did not know - in the end not more than a short hop as well.
The Wrights were first - with their patent application
In any case, it is certain that the Wrights were quicker with their patent application. They applied for a patent for their "Flyer" months before the first flight, on March 23, 1903 (granted May 22, 1906,

US821393A (1,21 MB)). Pearse filed his invention with the New Zealand Patent Office years later: "An improved aerial or flying machine" (July 19, 1906). The patent was granted on August 8, 1907(

NZ21476 (6,31 MB)).
In the same year, he began designing a second aircraft, which was to have a wingspan of over twelve meters. In 1909, however, he stopped work on it, possibly because he had doubts about its controllability. It was not until more than 20 years later that he resumed his involvement with aviation, constructing his "Utility Plane," a vertical takeoff plane. In 1943, he applied for a patent for his third aircraft, which was finally granted in 1949 ("An aeroplane that can ascend and descend in very restricted areas", NZ87637; see also AU1328344A, AU124430B2). However, this design never flew.

A lone pioneer
Pearse later grew tired of being a farmer and moved to Christchurch. He remained a manic, increasingly cranky, reclusive tinkerer to the end of his life. Eventually, he developed paranoid traits and was placed in a mental institution. Two years later, on July 29, 1953, he died in Riccarton.
Now, did Pearse´s first airplane really take off in 1903? We don't know for sure. One thing is certain: it was an amazing design that had technical features still used in aircraft construction today, such as an aileron. The Wright Flyer didn't have one, although the brothers worked with a team of engineers, while the self-taught Pearse designed his machine entirely on his own. Whether he was the first powered aviator or not, Pearse is in any case an applaudable pioneer of aviation.

Text: Dr. Jan Björn Potthast; Pictures: Intellectual Property Office New Zealand (IPONZ), unbekannter Fotograf via Wikimedia Commons, IPONZ, Karora (public domain via Wikimedia Commons), IPONZ
Last updated: 22 June 2023