Content
New generation of microchips: DPMA President congratulates winners of the Deutscher Zukunftspreis award
DPMA President: Pioneers of progress in many sectors of industry – Federal President honours award winners in a livestream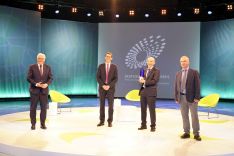 Federal President Frank-Walter Steinmeier, Peter Kürz (Carl Zeiss SMT), Dr Michael Kösters (TRUMPF) und Dr Sergiy Yulin (Fraunhofer)
Press release of 25 November 2020
Munich. Their development enables a new generation of microchips: The President of the German Patent and Trade Mark Office (DPMA), Cornelia Rudloff-Schäffer, congratulates the developers at Carl Zeiss SMT GmbH, Oberkochen, TRUMPF Lasersystems for Semiconductor Manufacturing GmbH, Ditzingen and the Fraunhofer Institute for Applied Optics and Precision Engineering IOF, Jena on winning the Deutscher Zukunftspreis 2020 award of the Federal President. "Through their development, the award winners have achieved what distinguishes outstanding inventors: They have pushed the boundaries of what is technically feasible. The central importance of chip technology for current technological development makes them pioneers of progress in many important sectors of industry," said the DPMA President, who is a member of the Board of Trustees of the Deutscher Zukunftspreis award.
For the Deutscher Zukunftspreis award, Dr Peter Kürz (Carl Zeiss SMT), Dr Michael Kösters (TRUMPF) and Dr Sergiy Yulin (Fraunhofer) presented a jointly developed manufacturing technology that takes the production of microchips to a new level: EUV lithography. EUV means "extreme ultraviolet" light with an extremely short wavelength. This allows to produce more powerful, more energy-efficient and more cost-efficient microchips than ever before. A novel optical system and extremely powerful laser technology contributed to the technological breakthrough.
Powerful microchips are a basic prerequisite for digital networks, which exchange large amounts of data, to function effectively. They are what makes automated applications possible in the first place: at home (smart home), in manufacturing (smart factory), artificial intelligence systems and technologies such as autonomous driving.
Federal President Frank-Walter Steinmeier presented the prize at the awards ceremony, which was streamed live in the evening – this year due to the coronavirus pandemic without a large audience present. Deutscher Zukunftspreis, the German future award for Innovation in Science and Technology, is endowed with 250,000 euros.
Two other teams were nominated for the award:
A team of Carl Zeiss Meditec AG, Oberkochen and the Inselspital University Hospital Bern, Switzerland presented the new robotic visualisation system KINEVO 900, which was developed for the operating theatre. Thanks to robotics technology, digital imaging and a newly developed microinspection tool the system relieves the burden on surgeons performing long, complicated surgeries on the brain or spine. It also produces better images and makes regions of the body obscured by other tissue visible to the surgeons. This contributes to making surgical procedures safer and more efficient, which significantly improves the chances of curing seriously ill patients.
Development number three was presented by the building materials manufacturing company Franken Maxit Mauermörtel GmbH & Co, Kasendorf, Dyneon GmbH, Burgkirchen and the Keylab Glass Technology at the University of Bayreuth. They jointly developed a new, sprayable insulating material for façades for energy-efficient building insulation. Tiny glass bubbles enhance the insulation capacity. This novel material is very easy to use and versatile; in addition, it is very resource-efficient and eco-friendly. Because of the high energy consumption in buildings, thermal insulation is considered an important challenge in the fight against climate change.

The German Patent and Trade Mark Office

Inventiveness and creativity need effective protection. The DPMA is the German centre of expertise for all intellectual property rights – patents, utility models, trade marks and designs. As the largest national patent office in Europe and the fifth largest national patent office in the world, our office stands for the future of Germany as a country of inventors in a globalised economy. Its staff of just under 2,800 at three locations – Munich, Jena and Berlin – provide services for inventors and companies. They implement federal innovation strategies and develop the national, European and international IP systems further.

Picture: Deutscher Zukunftspreis
Last updated: 25 November 2020