Content
May, Mercury & Queen

Astrophysicist Dr Brian May visits ESO´s Paranal observatory, 2015
Queen - A band with many Talents

Freddie Mercury is considered one of the greatest rock singers of all time. Brian May is a much-admired guitarist. But the two rock stars have quite a few other talents. In honour of Dr May, who celebrates his 75th birthday on 19 July, we have a look at the versatile band Queen and the IP Rights around it.
Mercury, born Farrokh Bulsara in Zanzibar in 1946, conquered the world with May, Roger Taylor (biologist) and John Deacon (electrical engineer) from England in the 1970s with Queen. The flamboyant frontman with the enormous vocal range wrote some of the group's biggest hits (and so did May). A trained graphic designer, Mercury also designed Queen´s emblem, which is modelled on the British royal coat of arms and protected as a word-picture trademark (EM000528158).
Queen is not only considered one of the most commercially successful groups in history, but also one of the best live bands. They owe this above all to Mercury's narcissistically pompous, thrillingly energetic stage show, whose exalted theatricality always had a good dash of self-irony mixed in. Not only at the Live Aid Festival in 1985 did Queen outplay all other bands.

A Munich man
By the way, Freddie Mercury lived in Munich for several years, where his band recorded several albums in the then famous Musicland Studios in Arabellapark. Mercury owned a flat in the city and enjoyed night life in relative anonymity to the fullest. Munich recently named a street after him.
The gap that his untimely death from AIDS on 24 November 1991 tore in the world of rock'n roll could never be closed again. In the history of rock, there is hardly anyone who could hold a candle to Mercury as a frontman (perhaps with the exception of Mick Jagger or James Brown).

Only several years after his death, his production company "Mercury Songs Limited" secured his name as an EM word mark (EM01806206; 2019; cancellation pending) and IR word mark (IR1537570; since 2020) as well as a word- figurative mark with his signature and his typical stage pose (EM001780071; since 2000).
Queen and the brands
Mercury's short, wild life was recently the subject of a slick blockbuster Hollywood movie named after the band's biggest hit: "Bohemian Rhapsody". The title had been registered in time by the production company of the remaining band members as a word mark for relevant Nice classes (09, 16, 25, 41; (IR1483809). The band name is also protected as a word mark (EM000208439), as is the title of a computer game featuring their music ("Queen - The eye",EM000344655) and the name of a publicly cast "official" cover band ("Queen Extravaganza", EM010356152).
In addition, "Queen Productions Limited" holds the rights to the trade marks relating to a musical featuring songs by the band ("We will rock you", word image EM002591592; word mark EM002606150) and trade marks such as "Stormtroopers in stilettos", the title of a song and exhibition about the band (EM009807629).
Astrophysicist on the guitar
What lifted Queen above many other bands, however, was not only their incomparable lead singer, but also their stylistic diversity and the fact that all four members wrote songs for the band. Moreover, these musicians were quite simply particularly good at what they did.
Brian May in particular should be singled out. He is a figure as versatile as he is unusual - in the rock business as well as in the world of intellectual property rights: May has a doctorate in astrophysics, is the mastermind of the production company "Queen Productions Limited", co-owner of various brands, entrepreneur and holder of a patent.

The virtuoso and his self-built "Old Lady"
Brian May is generally regarded as a virtuoso guitarist. He plays a self-built instrument, which he constructed as a teenager together with his father from parts taken, for example, from an antique fireplace mantle or a motorbike; an old bread knife of his mother was also used. Thanks to the well thought-out construction with hollow chambers, numerous pickup adjustment possibilities or a sophisticated tremolo mechanism, this "Red Special" has a very unique, singing sound.
In particular, the tremolo mechanism - also known as vibrato - is something that engineers and instrument makers are still working on today (see most recently, for example,

US10380977B1,

US11087723B2 (1,43 MB)). . May's electric guitar is said to have been one of the first to have a tremolo system in which the strings are supported on small rollers at the bridge to reduce the risk of detuning or breaking. From today's perspective, father and son May should probably have sought a patent for this development.

Ringing coin
May's guitar is now one of pop's iconic working instruments; replicas were offered by various instrument makers before May decided to produce and sell copies of his "Old Lady" himself (trademark: EM010598142). Instead of a plectrum, by the way, May uses old British sixpence coins to pick the strings.
When Queen made their breakthrough in the early 1970s, Brian May abandoned his doctoral studies in physics and the work on his dissertation. Decades later, he did finish his doctoral thesis, which appeared in print in 2007 under the title "A Survey of Radial Velocities in the Zodiacal Dust Cloud". He contributed to popular science books and television programmes on astronomy. An asteroid is also named after him.

The rocker and his patent
May is also involved in various causes such as animal and climate protection, but research into historical stereoscopy is particularly close to his heart. He has also been involved in various publications in this field and is himself a dedicated 3D photographer and collector of historical stereoscopes.
His involvement with 3D photography culminated in the filing of a patent, which was granted in 2011: "Collapsible stereoscope" (

GB2472255B). It describes a foldable stereoscope intended for viewing stereoscopic illustrations in books. It longs to be "a device suitable for viewing stereoscopic illustrations in books, which could provide good enough quality for a true three-dimensional experience for all eyesight types, and be easy to use, but also be collapsible into a small enough space to fit inside the book".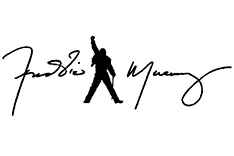 001780071
In 2017, May published the book "Queen in 3D", which includes stereoscopic photos of the band taken by himself and can certainly be viewed well with the help of his patented device.
You can see: The band Queen and its members are special in every way. Their frontman Freddie Mercury was perhaps comforted to die in the knowledge that his name is immortal - and that he had let it rip like no other throughout his life. Meanwhile, Brian May continues to rock at 75 and is currently on tour again with (the rest of) Queen plus reinforcements.
Text: Dr. Jan Björn Potthast; Pictures: ESO G. Huedepohl, Universal Music Group, Thomas Steffan CC by-SA 3.0 via Wikimedia Commons, Thomas Steiner CC by SA 3.0 via Wikimedia Commons, DEPATISnet, DPMAregister
Last updated: 20 July 2023