Content
Fresh name, proven quality! The Technical Information Centre of the German Patent and Trade Mark Office in Berlin to be renamed DPMA Information and Service Centre Berlin
Press release of 27 October 2017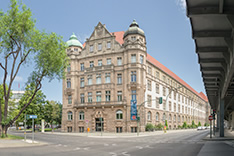 Today's Berlin Sub-Office of the DPMA on Gitschiner Straße had once been the seat of the Imperial Patent Office.
Munich/Berlin. For almost 70 years, the German Patent and Trade Mark Office (DPMA) has provided high-quality services to its customers in its Berlin branch. In the future, this will also be more strongly reflected in the name: on 1 November 2017, the "Technical Information Centre" of the office will be renamed "DPMA Information and Service Centre", the DPMA-IDZ Berlin. Its staff provide information on IP rights, coordinate cooperation with the regional patent information centres and other organisations, organise speakers and plan and design events - ranging from IP seminars to the Long Night of the Sciences. The name changes, but the wide variety of services will continue to be delivered to the same high-quality standard.
"The new name will do better justice to the tasks of our also historically important branch office in the capital and take account of the modern language usage of our target Groups", explains DPMA President Cornelia Rudloff-Schäffer. "he new name provides a more distinctive profile of the broad variety of services offered – but also of the strategic customer orientation – and communicates them more clearly to the outside world."
The new name is also an expression of how we see ourselves: depending on the overall conditions, we tailor the contents to the needs of our customers. Lately, we have made great efforts to coordinate stakeholders and focused on small and medium enterprises (SMEs). In the future, too, we want to be flexible. "The renaming is a purely technical process. Those who come to us do not have to pay extra attention to anything." says Kerstin Piratzky, Head of the Information and Service Centre. "We look forward to continuing to deliver our work to a proven high-quality standard, bringing a fresh breeze to it."
The Berlin office is not only an important location for the DPMA as a service centre but also historically. As of 1905, the impressive building on Gitschiner Straße had housed the Imperial Patent Office, later the Patent Office of the German Reich. After World War II and the reestablishment of the patent system in Munich, a sub-office of the patent office again moved into the former headquarters.

The German Patent and Trade Mark Office
Inventiveness and creativity need effective protection. The DPMA is the German centre of expertise for all intellectual property rights - for patents, utility models, trade marks and registered designs. As the largest national patent office in Europe and the fifth largest national patent office in the world, it is committed to Germany's future as a country of inventors in a globalised economy. Its roughly 2,600 staff based at three locations – Munich, Jena and Berlin – are service providers for inventors and companies. They implement the innovation strategies of the Federal administration and develop national, European and international IP systems further.
Contact details of the DPMA Information and Service Centre Berlin:
Deutsches Patent- und Markenamt
Informations- und Dienstleistungszentrum Berlin
Gitschiner Str. 97, 10969 Berlin, Germany
Search room/enquiry unit
Monday through Thursday: 7:30 a.m. to 3:30 p.m. / search room Thursday to 7:00 p.m.
Friday: 7:30 a.m. to 2:00 p.m.
Web: www.dpma.de

Last updated: 21 September 2023