Content
Highly sensitive robots, complex hand prostheses, new quality of clinical images - three candidates nominated for the Deutscher Zukunftspreis award 2017
Press release of 13 September 2017
Prof. Dr.-Ing. Sami Haddadin presenting his invention Panda
Munich. It can drill, fasten a screw and sort objects – and one day it could even be able to care for the elderly: Panda is a helper in many situations. A highly sensitive robot, that is focused on the interaction with people. And: it is adaptive and easy to operate. Similar to a smartphone, there is no need for time-consuming programming, it can be fed with apps allowing it to constantly expand its skills. According to experts, the seven-axis robot arm could revolutionise the robot market. Its inventor, Sami Haddadin, Professor at the University of Hanover and co-founder of the Munich company FRANKA EMIKA Ltd., calls it the "democratisation of digital automation". Panda – a robot for everybody.
Prof. Dr.-Ing. Sami Haddadin with his team is one of the three researchers nominated for the Deutscher Zukunftspreis award. The prize is presented by Federal President Frank-Walter Steinmeier at the Kraftwerk Berlin on 29 November 2017. Haddadin had been proposed for nomination by the German Patent and Trade Mark Office, among others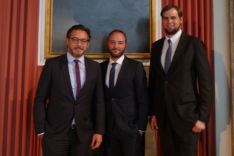 Nominees for the Deutscher Zukunftspreis 2017 (from left): Prof. Sami Haddadin, Dr. Simon Haddadin and Dipl.-Inf. (FH) Sven Parusel
Today the three nominees have been announced in a press conference in Deutsches Museum in Munich. Two engineers, Klaus Dieter Engel and Stefan Schulz, with their projects are nominated in addition to Haddadin:
With syngo.via Cinematic Rendering, Dr. Klaus Dieter Engel at Siemens Healthineers - Siemens Healthcare GmbH in Erlangen has made essential progress on 3D clinical visualisation. This method of display presents photorealistic vivid images of unprecedented clarity of organs, vessels and bones. Physicians can see and localise details more clearly, allowing them to better recognise, for example, fractures and internal injuries, and to more accurately place what are known as stents, tubular support structures for vessels. In contrast to former imaging, these images are instantly comprehensible also to non-experts.
In his company Vincent Systems in Karlsruhe, Dr.-Ing. Stefan Schulz develops highly innovative bionic hand and finger prostheses. Bionic prostheses can replace a lost limb and still enable complex movements and functions. Stefan Schulz particularly well reconciles the conflicting aims of creating a robust yet lightweight prosthesis, a problem that has been difficult to resolve. Schulz's bionic hand prosthesis is said to be the smallest in size and lightest in weight in the world, offering a higher quality of life than other products also for children.
DPMA President Rudloff-Schäffer: "Zukunftspreis rewards innovative power"
"To ensure that we are at the forefront of international competition, we heavily rely on highly qualified researchers and their innovative spirit. The three nominees show that innovative power is a great strength of our country. They also impressively demonstrate how technological innovation can serve the well-being of People", said DPMA President Cornelia Rudloff-Schäffer on occasion of the nomination. "The prestigious Zukunftspreis award of the Federal President rewards innovative power and, at the same time, gives it the public platform it deserves."
The Deutscher Zukunftspreis award, endowed with 250,000 euros in prize money, will be presented this year for the 21st time already. Big German science and industry associations and institutions propose particularly innovative scientists and their work for nomination. The scientific-technological level of innovation and the potential to translate this achievement into the creation of sustainable jobs are decisive factors. The scientific value as well as the economic and social importance of the projects are assessment criteria applied by the nine-member jury.
The German Patent and Trade Mark Office
Inventiveness and creativity need effective protection. The DPMA is the German centre of expertise for all intellectual property rights - for patents, utility models, trade marks and registered designs. As the largest national patent office in Europe and the fifth largest national patent office in the world, it is committed to Germany's future as a country of inventors in a globalised economy. Its roughly 2,600 staff based at three locations - Munich, Jena and Berlin - are service providers for inventors and companies. They implement the innovation strategies of the Federal administration and develop national, European and international IP systems further.

Pictures: DPMA
Last updated: 14 July 2022