Content
175th birthday of Margarete Steiff

Margarete Steiff with teddy bear, she rarely had herself photographed with her teddy bears; on the right, excerpt from the Trademark Directory of 1905
Toy inventor and fighter for a self-determined life
The "Knopf im Ohr" ("Button in Ear") is one of the most traditional German brands. Yet its founder Margarete Steiff had to overcome health hurdles before she could become a successful entrepreneur. She was born on July 24, 1847 in Giengen an der Brenz in Württemberg and would have celebrated her 175th birthday these days.
Margarete was a lively child and grew up carefree until she contracted polio at the age of one and a half. From then on, her legs are paralyzed and she can only move her right hand with pain. She is confined to a wheelchair for the rest of her life, and several cures for the disease are unsuccessful. This means that marriage is out of the question for her in the second half of the 19th century, nor does she have any prospect of a self-determined life. But despite her handicap, the young Margarete fights for her place in life. She succeeds in getting permission to attend school.
Margarete learns easily, yet she cannot attend high school because that is reserved for boys. So, like her two older sisters, she attends sewing school. She found sewing by hand difficult because her right hand had limited strength due to her disability. Here, too, she fought her way through with her strong will and great discipline and successfully completed her tailoring apprenticeship at the age of 17. At times Margarete works in the ladies' tailor shop of her sisters Pauline and Marie.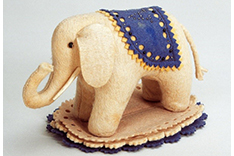 The elephant was intended as a pincushion - until children discovered it for themselves as a toy (Elefäntle before 1892)
For her 27th birthday, Margarete's father sets up her own workroom, a small sewing room, in the family home. From her first self-earned money, she buys her own sewing machine. Three years later, in 1877, she ventured into self-employment: Steiff founded a felt clothing business in which she sold garments and household articles she had produced herself. The goods sold well and she was soon able to employ several seamstresses.
The "Elefäntle": from pincushion to popular children's toy
At the end of 1879, Margarete discovers the pattern for a small fabric elephant in a fashion journal. Using this pattern, she sews the "Elefäntle" as a pincushion, the first best-seller of the Steiff factory. In the following years, the demand for the small felt elephants increases, so that the workshop soon also produces other animals made of felt, such as horses, monkeys or pigs.
On March 3, 1893, her toy business is entered in the commercial register as "Margarete Steiff, Filzspielwarenfabrik Giengen/Brenz." In the same year, the toys are presented for the first time at the Leipzig Toy Fair. Steiff now employs four seamstresses and ten home workers.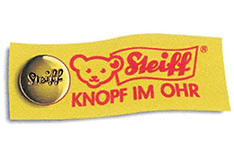 Word and figurative mark "Steiff - Button in Ear", registration no. 30548560
In 1897, Richard Steiff, Margarete Steiff's favorite creative nephew and creator of numerous Steiff creations, joins his aunt's flourishing toy factory. It is he who in 1902 designs the "Bear 55 PB", the world's first plush bear with movable arms and legs. Margarete Steiff herself was skeptical about the bear's potential for success. In 1903, the company presents the stuffed bear at the Leipzig Toy Fair, and towards the end of the fair, an American dealer buys the entire collection (3,000 pieces) - the triumphant advance of the "Teddy Bear" in the USA begins.
"Knopf im Ohr" ("Button in the ear") - a trademark is created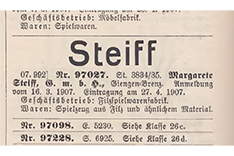 Word mark "Steiff", photo from the trademark journal of 1907
In order to distinguish the company's own high-quality products from cheap competitor products, Margarete's nephew Franz Steiff designs the "Button in Ear" as a trademark for Steiff goods in 1904. The trademark is applied for at the patent office and registered in 1905. Finally, on April 27, 1907, the word mark "Steiff" is registered (DE97027). In 1907, the company with 400 employees and 1,800 home workers already produces 973,999 teddy bears and a total of about 1.7 million toys.
Margarete Steiff dies on May 9, 1909 in her hometown as a result of pneumonia. Steiff's nephews continue to run the company. Margarete Steiff's creations achieve world fame beyond her death.
Picture 1: Margarete Steiff GmbH, DPMA, Pictures 2 und 3: Margarete Steiff GmbH, Picture 4: DPMA
Last updated: 14 August 2023