Content
Ludwig II.

Ludwig II: Posthumously completed portrait by Gabriel Schachinger
The fairytale king of trade marks
King Ludwig II. wanted to remain an "eternal enigma" - and he succeeded. Above all, the circumstances of his death in Lake Starnberg on 13 June 1886 will probably remain mysterious forever. His secrets and above all his castles, which today are among Bavaria's biggest tourist attractions, make the "Kini" immortal. That is why his name is part of many trade marks.
When most people think of "King Ludwig" today, they think of the "fairytale king" Ludwig II. Yet Bavaria also had King Ludwig I, his grandfather, whose buildings have shaped Munich's cityscape to this day, and Ludwig III, his cousin, the country's last king.
Ludwig II of the Wittelsbach family, who was born on 25 August 1845 in Nymphenburg Palace, came to the throne at the age of eighteen, very young, very tall (193 cm), handsome - and hardly prepared for the enormous task. His reign saw great upheavals: rapid industrialisation, bloody wars and the founding of the German Empire. Bavaria's king had to give up his sovereignty almost completely and subordinate himself to his Prussian relative as German emperor.

Retreat into dream Worlds

No wonder that the sensitive Ludwig preferred to dream himself back to a time when monarchs like Louis XIV of France (his ardent role model) still ruled absolutely and unchallenged. The reclusive king withdrew more and more into an expensive dream world made of stone: his castles Neuschwanstein, Linderhof and Herrenchiemsee.
Ludwig refused to fulfill any representation duties, but he duteously continued to conduct the affairs of state. Admittedly, he was not always easily accessible to the ministers at his retreats (including remote mountain huts). He also usually worked only at night. But he "functioned". His incapacitation and deposition on 8 June 1886 for alleged "incurable mental disorder" was therefore nothing more than a dressed-up coup d'état. A few days later he was found dead in Lake Starnberg. Suicide, according to the official version. But the numerous inconsistencies surrounding the evening of 13 June 1886 still puzzle us today.

A descendant holds the most Ludwig brands
Ludwig's uncle Luitpold took over the government as Prince Regent. The royal family must have breathed a sigh of relief: the private debt burden into which Ludwig had plunged himself through his building frenzy had become increasingly oppressive.
Today, the family earns money with his name and his myth. For behind the various "King Ludwig" brands in the food sector stands Luitpold, Prince of Bavaria, a descendant of the Prince Regent. His "König Ludwig International GmbH & Co. KG" holds various "König Ludwig" trademark rights, for example for the beers from the Kaltenberg brewery (also known for its knight tournament festivals): DE 1028253 ("LUDWIG KÖNIG VON BAYERN", since 1981; for beer), DE 1041749 or 1179497 and 1098607 for spirits. The best known is probably "König Ludwig Dunkel"(DE 1061438, 2022179).

In Ludwig's name: Beer, coffee and pies
This company has also registered the word mark "König Ludwig" as a word mark for numerous other Nice classes (e.g. DE 395465591, 396127061 oder 399157654). Corresponding word-picture marks have also been registered (e.g. DE 302624317, 305783084). "Ludwig II" was added as a word mark in 1999 for many Nice classes (DE 399157662).
Through other companies, the Wittelsbacher controls further trademarks that refer to his famous ancestor: The oldest is the word mark "König Ludwig" (DE 38004),which was applied for as early as 1899 for coffee and tea (Nice class 30). A corresponding word-picture mark was added in 1909 (DE 130358). The owner is "Schloss Kaltenberg Königliche Holding und Lizenz KG". This company also applied for the trademark "König-Ludwig-Pasteten" in 1972 (DE 897392, 2071744). It has also registered the word and figurative mark DE 3020090259658.
Mustard and musical
The few Ludwig food trademarks held by other companies include the "Hausmacher Senf-König Ludwig" (home-made mustard King Ludwig) of the former Royal Court Supplier Develey (DE 957730) or the sparkling wine trademark "König Ludwig II" of the Sektkellerei Nymphenburg (DE 958790, also 302015833, 3020080314842, EM 000017632).
The Bavarian State Institute for Viticulture and Horticulture in Würzburg has registered a word-picture trade mark for a "birthday wine of King Ludwig II" (DE 395305004). There is also the word-picture trade mark 3020110137013 for a Ludwig musical.

Disputed Neuschwanstein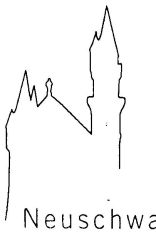 Word and figurative mark "Neuschwanstein" 39953792 (detail), applied for by the Free State of Bavaria
The world-famous names of Ludwig's castles, especially Neuschwanstein, also arouse covetousness. This trademark has been fought over for years between the Free State of Bavaria and commercial providers.
The Free State has had the trademark "Neuschwanstein" protected several times since 1999, both as a German word mark (39904763, 30544198) and word/figurative mark (39953792, 30303175)and later as an EU trademark (003267945, 10144392, 015922529).
However, these trade mark registrations were quite controversial; they were also registered only for a part of the goods and services originally claimed.
The "Bundesverband Souvenir - Geschenke - Ehrenpreise e. V." (Federal Association of Souvenirs - Gifts - Prizes of Honour) took action against the trade mark protection of the word "Neuschwanstein" and sued for cancellation of the EU word mark 010144392, registered in 2011, arguing, inter alia, that Neuschwanstein was a geographical origin and therefore not eligible for trade mark protection.
The Free State had applied for the trade mark in various Nice classes (including perfume, jewellery, instruments, stationery, bags, beauty care, beverages, insurance, smokers' requisites, toys) in order to "avert abuse and denigration of the important cultural monument Neuschwanstein as well as its commercial exploitation". The legal dispute, which lasted for years, ended provisionally with a ruling of the European Court of Justice: the action of the souvenir association was dismissed (

EUGH-Urteil vom 6.9.2018); the trademark remained registered. But the disputes about the Neuschwanstein trademark continued, as the legal situation remains difficult. The EU trade mark 010144392 has since been cancelled for non-use (revocation).

Cheese and body care
A Neuschwanstein word-picture mark had already been registered in 1950 by a cheese dairy from the Allgäu region (DE 627845 for Nice Class 29). There is also a valid "Neuschwanstein Castle" trade mark for body and beauty care products (DE 398424357).
"Herrenchiemsee" was only secured by the Free State as a word mark for some Nice Classes in 2018 (EM 017993359). Much older is "Schloss Herrenchiemsee", applied for in 1964 by a wine wholesaler (DE 805906).
A supermarket chain has registered "Schloss Linderhof" as a word mark for sparkling wines (DE 788743 since 1963; also EM 00523879). "Linderhof", on the other hand, is again a word mark of the Free State (DE 303351500, EM 017993357).
Royal technology pioneer

Ludwig II, Bavaria's unfortunate fairytale king, is still very much present 135 years after his death, not least because of these stamps. Incidentally, the Reichspatentamt (Imperial Patent Office), predecessor of the DPMA, was founded during Ludwig's reign (1877). For the creation of his artificial worlds, the king pushed technology forward at an unheard-of rate at the time: his neo-rococo sledge was one of the world's first vehicles with electric lighting.
His "Venus Grotto" in Linderhof Palace had one of the first electric power stations and a lighting system that was hypermodern at the time, as well as a wave machine. Because the king wanted it to imitate the light of the Blue Grotto of Capri, the BASF company developed a "process for the representation of artificial indigo" on his behalf, for which it was granted a patent in 1882 (

DE21592).
But Ludwig and the technology - that is a story of its own, which we will take up another time.

Text: Dr. Jan Björn Potthast / Pictures: Gabriel Schachinger / Public domain via Wikimedia Commons, DPMAregister
Last updated: 22 June 2023