Content
The Strandkorb

Keep your distance: Strandkorb at Dornum
My Strandkorb is my castle: Intellectual property around the wooden beach fortress
In the summers of the pandemic, it was the holiday furniture of the moment: the Strandkorb (beach chair). Because anyone sitting in it could be sure of keeping the Covid-mandated minimum distance. But the beach chair has a very long history. And it is constantly being developed technically.
In the past, opinions were divided on the Strandkorb: is it the best of all inventions for holidays by the sea or merely a plump bourgeois accessory? In any case, it is impossible to imagine the German coasts without these colourful monstrosities, but they are completely unknown on other shores. The first beach chair is said to have been installed in Warnemünde in June 1882. And it has never been as popular as it is today: the beach chair rental companies on the German coasts can't complain about the demand.
In June 1882, the first beach chair was said to have been put up in Waremünde. Legend has it that an elderly lady suffering from rheumatism, who is said to have been called either "Elfriede von Maltzahn" or "Fräulein von Oerzen", entered the workshop of the Rostock basket maker Wilhelm Bartelmann in spring 1882. She asked him for a seat that would protect her from the wind and sun so that she could stay on the Baltic beach despite her illness. Bartelmann (1845-1930) made her a single-seater beach chair out of wickerwork, which he covered with fabric.

Covered wicker chairs known for centuries

Such chairs have been around at the North Sea for quite some time, so it is questionable whether Bartelmann can really be considered the inventor of the beach chair. He might not have received a patent, since the basket maker Ernst Karl Nikolaus Freese offered a very similar "beach chair with willow canopy and Peddig cane, varnished with oil paint" in his sample book as early as 1871. Legend has it that Bartelmann either refused to register a patent out of conviction or simply forgot to do so.
It was less the court basket maker himself but his wife Elisabeth who recognised the potential of the beach furniture and ensured that it spread to the German coasts within a few years. She took care of the marketing and established the beach chair as a seasonal piece of rental furniture for summer visitors. She also encouraged her husband to develop it further. Bartelmann designed the prototype of a two-seater with awning, footrests and side folding tables, which is still characteristic today (and for this reason he may well be regarded as the actual "inventor" of the beach chair, despite all its predecessors).

Almost unchanged since 1910 - despite many ideas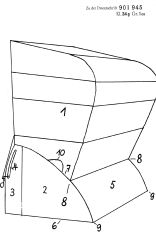 "Beach chair" (DE901945B), 1949
Bartelmann's former journeyman Johann Falck later founded his own manufactory in the wake of his master. In 1910 he added an adjustable backrest to the beach chair, thus completing its typical structure. To this day, beach chairs are produced practically unchanged. However, a distinction is made between the Baltic and North Sea types: the beach chairs on the Baltic Sea are somewhat rounder, more curved than those on the North Sea; there the beach chairs are rather angular and straight-lined - like the sea, so the beach chair.

Beach fortress and love arbour

In a short cultural history of the beach chair, the keyword "Küsten-Schrebergarten" would inevitably fall, as it was common practice for a long time to wall it with a sandcastle and flag it. In the Weimar Republic, for example, the respective political convictions were often demonstrated on the beach. One would also come across the popular use as a "storm-free stall" or "pleasure cottage" for couples, which was processed in the corresponding song and film material ("If the beach chairs shake, yes, my child, then it's not always the wind" – rough translation from a German "Schlager" of the 1990s). This is also alluded to by the design of a red, heart-shaped basket-blossom (40401656-0001), registered at the DPMA in 2004. And the history would have to mention Thomas Mann, who was working on his novels in his "familiar and peculiarly cosy little seat house" on the beach of Nidden.

Anatomy of a long-lasting Bestseller

But of course we are mainly concerned with the technical and IP aspects of the beach chair.
The typical strandkorb is about 1.6 metres high, 1.2 metres wide and weighs about 80 kilos. Beach chairs are therefore bulky, heavy and not easy to transport. The advantage of this construction method is that they cannot be easily stolen, towed, knocked over by the storm or washed away. The strandkorb is virtually "storm-proof and grown out of the ground", as it is said about the natives of Lower Saxony in their anthem "Niedersachsen-Lied". Nevertheless, the lenders lose some of their furniture every now and then during surprising storm tides when the sea sweeps them away.
Apart from the so-called "Typ Platte" from GDR times with solid chipboard walls, beach chairs still have the characteristic wickerwork side panels and hoods. However, this is now almost always made of plastic, more rarely of Asian bamboo bast or rattan and hardly from the traditional willow.

Beach chairs for folding, swimming, reclining

The question arises as to why the strandkorb has changed so little over the last 100 years despite all technical progress. There have been and still are plenty of alternative suggestions and ideas.
There was, for example, Felix Schneider from Dresden, who proposed in 1893 to assemble a beach chair from travel baskets(

DE 70848A). Theodor Krech from Meinigen, on the other hand, had a foldable beach chair patented in Great Britain and the USA in 1907 (

US882948A,

GB190622803A). Wilhelm Hamacher of Essen applied for a patent in 1939 for another foldable beach chair made of steel tubes (

DE682476A).
As early as 1907, Alfred Blum from Berlin applied for a patent for the "strandkorb convertible into a bedside" (

DE198819A), the back of which could be folded down completely and on which one could consequently lie down properly. Herbert Broszeit from Hameln continued this approach in 1950 with his "Adjustable beach chair" (

DE908666B). The idea was taken up again recently, when sleeping baskets for overnight stays on the beach came onto the market.

"...can also be used as a boat"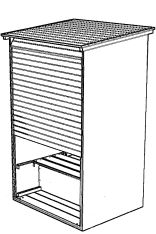 Solid wood beach chair with roller shutter, 2018 (registered design DE 202018000313 U1)
The stability of the strandkorb seemed to inventors to be in need of improvement again and again, for example Hugo Erpel from Hamburg, who applied for a patent in 1949 for a more solid combination of the typical individual parts(

DE 901945).
Wilhelm Schulze of Lübeck had a particularly original idea: in 1911 he had a beach chair patented, which could also be used as a boat. (An idea that interior designers picked up again much later, when it temporarily became fashionable to place armchairs in the living room in the shape of the bow of a tropical canoe). According to

DE 236413A, the streamlined "resting frame spanned with metal plates or the like" only had to be turned upside downfor rowing away. Schulze's invention was not successful - perhaps fortunately, because the designer suggested covering the walls with an asbestos layer as a heat protection agent.

Many new ideas, but the classic remains

Strandkorb lenders often close their unrented pergolas with an external wooden grid, which is relatively cumbersome. A remedy is the suggestion to make the upper part foldable and lockable: "Beach chair with a forward, completely lockable upper basket" (

DE 202016002688 U1) was registered with the DPMA in 2016.
Other current new developments include the "wheelchair-accessible strandkorb" (

DE 202016003165 U1) or the idea of equipping the basket with a photovoltaic system to operate or charge small electrical appliances(

DE 202016006294 U1).

DE 202018000313 U1, largely breaks with the traditional design, proposing a solid wood beach chair with electric roller shutters. Very elegant was the design M9704932-0001, registered in 1997, which is reminiscent of classic Thonet bentwood furniture.
One of the most recent further developments of the classic beach chair includes a dismountable construction and side windows(

DE 202017101563 U1).
Today, strandkorbs are manufactured in countless variations and are enjoying increasing popularity as garden furniture or beer garden decorations even far away from the coasts. Every year several thousand pieces are produced. The number of all strandkorbs on the German coasts is estimated at at least 100,000.


Always keep developing
The latest variant is a rather shell-like housing with feet, which, in contrast to the classic beach chair, is supposed to be very easy to assemble and transport: The "completely closable beach chair" (

DE02020201815U1)is made of plastic and impresses with a "distinguished design language", as the utility model application states.
Other new applications promise improved detailed solutions for the footrest (

DE202020003898U1), the trailer table (

DE202021102650U1) or the material, for example by using an air-impermeable intermediate layer of acrylic glass (

de202022104282u1_acrylglas.pdf).
Because beach chairs are traditionally large and very heavy,

de202021001719u1_traegerfahrzeug.pdf proposes an electric carrier vehicle for transport.
Today, beach chairs are manufactured in countless variations and are enjoying increasing popularity as garden furniture or beer garden decoration, even far from the coasts. A few thousand are said to be produced each year. The number of all beach chairs on the coasts is estimated at at least 100,000.


Text: Dr. Jan björn Potthast, Pictures: DPMA/JBP, DEPATISnet, Gemeinfrei/via Wikimedia Commons, DEPATISnet
Last updated: 26 July 2023