Content
Warning against Misleading Requests for Payment

DPMA warns of surprises around Easter
Easter time is holiday time. In small and medium-sized enterprises, there is sometimes no principal or accounts manager at work in the office before or after the holidays. Now, in times of Corona, some companies are even missing more colleagues. That shouldn't be a problem in itself, if a company wouldn't receive business letters of a special kind at the very same time. We are talking about certain and sometimes very misleading invoices, offers and requests for payment for the publication, registration or renewal of intellectual property rights in commercial registers with costs. Often the colleagues who stepped in for those normally responsible are uncertain and pay overhasty for a service that may not be desired and, above all, is not necessary at all.
The German Patent and Trade Mark Office (DPMA) regularly receives complaints about such letters via customer service. The DPMA positively points out that all these letters are not related to the Office. The Office does not send invoices or requests for payment at any time - neither for the application or renewal of industrial property rights nor for the publication of industrial property rights in the official registers. Although official fees are incurred for the services of the DPMA, the trademark or patent applicant must pay these fees independently and without explicit request. The applicant should note that he himself must ensure that he pays the fees due for the renewal of an IP right in due time.
What fees are to be paid?
Not all senders of these letters are fraudulent. The companies legally offer to register in private, commercially used registers or take over the renewal of a nominal fee at the DPMA on behalf of the customer. In this case, they act as an intermediary, so to speak, and basically charge an agency fee. You can accept these offers - but you don't have to. The German Patent and Trademark Office is solely responsible for the publication, registration or renewal of intellectual property rights in Germany. Entries in other registers have no influence on the IP right granted or to be renewed by the DPMA. In this respect, further expenditure of money in addition to the official fees is not necessary and pointless.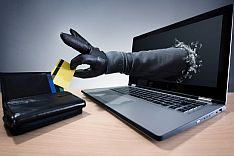 DPMA therefore advises all addressees of corresponding requests for payment to examine these letters carefully and to read the General Terms and Conditions or the small print carefully. At a quick glance, the offer character of these letters is often not recognizable. You should be sensitive to certain features if these letters contain, for example, account/IBAN numbers abroad, "crooked" sums of money, a stated value-added tax, changing addresses or a pre-filled transfer slip.
Intended confusion
Since many of these "service providers" are difficult to be legally charged and the Office is also not one of the injured parties, the DPMA has its hands tied and does not initiate legal measures against them. Anyone who complies with the misleading requests for payment is ultimately doing so voluntarily. The Office is concerned that these letters are becoming increasingly sophisticated. For example, the companies of the sender or the private registers have names that are similar to the German Patent and Trade Mark Office and thus invite confusion. Furthermore, the authors of these letters use tight payment deadlines to put recipients under time pressure and tempt them to react hastily.

Furthermore, it can be noted that these letters - by post or by e-mail - have been received more frequently at certain times in the last two years. This means that in connection with typical holiday periods or before and after public holidays, the customer service of the DPMA increasingly receives enquiries about misleading requests for payment. The Office concludes from this that the senders of these letters make targeted use of these times in the knowledge that some companies are understaffed at this time. The likelihood of meeting a subsitute who might be less familiar with the subject matter and who would order a payment - if only to avoid making a mistake in an important property right case.
A list of names of German and international companies sending such letters can be found on the DPMA website of the "Misleading Payment Requests for Payment". All information on payment transactions and the amount of official fees can be found on our website "Fees" and on our detailed cost information sheet. Our customer service department will also answer your questions on this topic by calling the central telephone number 089 2195-1000.

Picture 1: iStock.com/MarioGuti, Picture 2: iStock.com/BrainAJackson
Last updated: 17 December 2019